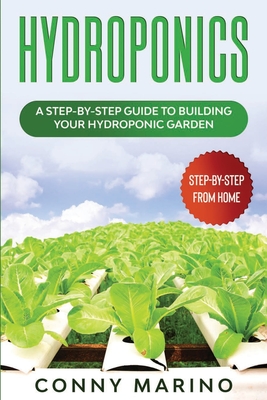 Amplitudo Ltd
Hydroponics: A Step-by-Step Guide to Building Your Hydroponics Garden.
0

Rate this book

Key Metrics
Amplitudo Ltd

Paperback

9781801141536

9.02 X 5.98 X 0.31 inches

0.44 pounds

House & Home > Outdoor & Recreational Areas - General

English
$0
Available Copies:
0 Copies

Secure Transaction
Book Description
If you want to create your own hydroponic system, growing good quality vegetables and fruits using an environment-friendly system saving space and water, then keep reading....
Are you interested in gardening but you don't have a garden?
Would you like to grow your own veggies but you don't have experience?
Do you want to live in a healthy way, be exposed to fewer chemicals with more nutrients, more minerals, more vitamins?
If you answered yes to any of these questions, this guide is for you.
Hydroponics is a method of growing vegetables, herbs and fruit in a water-based, nutrient-rich solution, without soil.
In this guide, you're going to learn how to build your hydroponic garden. Paul Springfield will show you step-by-step instructions on how to choose the best quality plants with the system that works better for you.
Here's a preview of what you're going to discover in hydroponics:
all benefits you can get with hydroponics
find witch hydroponic system is perfect for you and build it
learn how to maintain it in perfect condition
choose the best plants
eat healthy, organic and with no pesticides
and more....
Even if you've never done any type of gardening before, or you have some experience growing plants and would like to explore a different gardening technique, the instructions in this guide will help you become an expert in growing plants hydroponically and you don't have to be a commercial farmer to make it work for you!
Scroll to the top of the page and select the Buy Now button to get started today
Hydroponics: A Step-by-Step Guide to Building Your Hydroponics Garden.