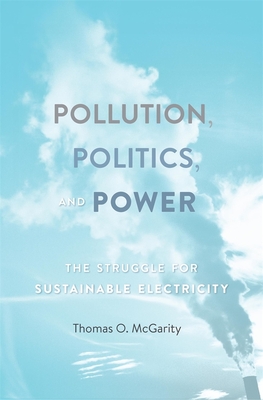 Thomas O McGarity

Harvard University Press
Pollution, Politics, and Power: The Struggle for Sustainable Electricity
0

Rate this book

Key Metrics
Thomas O McGarity

Harvard University Press

Hardcover

9780674545434

9.3 X 6.2 X 1.8 inches

2.05 pounds

Political Science > Public Policy - Environmental Policy

English
$0
Available Copies:
0 Copies

Secure Transaction
Book Description
The electric power industry has been transformed over the past forty years, becoming more reliable and resilient while meeting environmental goals. A big question now is how to prevent backsliding.
Pollution, Politics, and Power tells the story of the remarkable transformation of the electric power industry over the last four decades. Electric power companies have morphed from highly polluting regulated monopolies into competitive, deregulated businesses that generate, transmit, and distribute cleaner electricity. Power companies are investing heavily in natural gas and utility-scale renewable resources and have stopped building new coal-fired plants. They facilitate end-use efficiency and purchase excess electricity produced by rooftop solar panels and backyard wind turbines, helping to reduce greenhouse-gas emissions.
But these beneficial changes have come with costs. The once-powerful coal industry is on the edge of ruin, with existing coal-fired plants closing and coal mines shutting down. As a result, communities throughout Appalachia suffer from high unemployment and reduced resources, which have exacerbated a spiraling opioid epidemic. The Trump administration's efforts to revive the coal industry by scaling back environmental controls and reregulating electricity prices have had little effect on the coal industry's decline.
Major advances therefore come with warning signs, which we must heed in charting the continuing course of sustainable electricity. In Pollution, Politics, and Power, Thomas O. McGarity examines the progress made, details lessons learned, and looks to the future with suggestions for building a more sustainable grid while easing the economic downsides of coal's demise.
Pollution, Politics, and Power: The Struggle for Sustainable Electricity
Author Bio
A former Articles Editor of the Texas Law Review, Professor McGarity is a leading scholar in the fields of both administrative law and environmental law. He also teaches torts.
He has written six influential books: Freedom to Harm (Yale University Press 2013); The Preemption War: When Federal Bureaucracies Trump Local Juries, (Yale University Press 2008), Bending Science: How Special Interests Corrupt Public Health Research, (Harvard University Press 2008) (co-author), Workers at Risk (Praeger, 1993) (co-author), The Law of Environmental Protection (West, 2nd ed., 1991) (co-author), and Reinventing Rationality: The Role of Regulatory Analysis in the Federal Bureaucracy (Cambridge, 1991). His recent articles include "Hazardous Air Pollutants, Migrating Hot Spots, and the Prospect of Data-Driven Regulation of Complex Industrial Complexes," 86 Tex. L. Rev. 1445 (2008). He is the immediate past president of the Center for Progressive Reform.
Source: The University of Texas at Austin