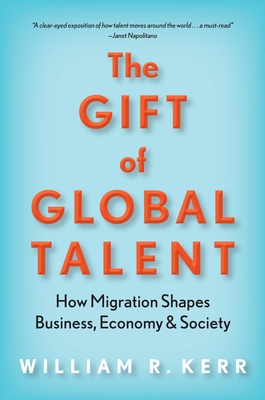 William R Kerr

Stanford Business Books
The Gift of Global Talent: How Migration Shapes Business, Economy & Society
0

Rate this book

Key Metrics
William R Kerr

Stanford Business Books

Paperback

9781503628984

8.9 X 6 X 0.8 inches

0.8 pounds

Business & Economics > Labor - General

English
$0
Estimated Arrival:
Sep 27 -Sep 29
Available Copies:
10+ Copies

Secure Transaction
Book Description
The global race for talent is on, with countries and businesses competing for the best and brightest. Talented individuals migrate much more frequently than the general population, and the United States has received exceptional inflows of human capital. This foreign talent has transformed U.S. science and engineering, reshaped the economy, and influenced society at large. But America is bogged down in thorny debates on immigration policy, and the world around the United States is rapidly catching up, especially China and India. The future is quite uncertain, and the global talent puzzle deserves close examination.
To do this, William R. Kerr uniquely combines insights and lessons from business practice, government policy, and individual decision making. Examining popular ideas that have taken hold and synthesizing rigorous research across fields such as entrepreneurship and innovation, regional advantage, and economic policy, Kerr gives voice to data and ideas that should drive the next wave of policy and business practice.
The Gift of Global Talent deftly transports readers from joyous celebrations at the Nobel Prize ceremony to angry airport protests against the Trump administration's travel ban. It explores why talented migration drives the knowledge economy, describes how universities and firms govern skilled admissions, explains the controversies of the H-1B visa used by firms like Google and Apple, and discusses the economic inequalities and superstar firms that global talent flows produce. The United States has been the steward of a global gift, and this book explains the huge leadership decision it now faces and how it can become even more competitive for attracting tomorrow's talent.
Please click here to learn more about the book.
The Gift of Global Talent: How Migration Shapes Business, Economy & Society
Author Bio
William Kerr is the D'Arbeloff Professor of Business Administration at Harvard Business School. Bill is the Unit Head of Entrepreneurial Management, co-director of Harvard's Managing the Future of Work initiative, and the faculty chair of the Launching New Ventures program. Bill is a recipient of the Ewing Marion Kauffman Foundation's Prize Medal for Distinguished Research in Entrepreneurship and Harvard's Distinction in Teaching award.
Bill's recent book is The Gift of Global Talent: How Migration Shapes Business, Economy & Society (2018). It explores the global race for talent and how countries and businesses compete for high-skilled migrants. The book reveals how immigration has transformed U.S. innovation, reshaped the economy through the rise of talent clusters and superstar firms, and influenced society at large in positive and adverse ways. The book argues that America, and the world, can get more out of global talent flows with sensible reforms.
The Managing the Future of Work project considers the unprecedented set of challenges and opportunities presented to businesses, including rapid technological revolutions, shifting global product and labor markets, aging workforces, and growing skills gaps. These forces change the ways that businesses compete with each other and engage workers. This multi-faculty project identifies how companies, schools, workers and the public sector can come together to manage the challenging transitions ahead as the nature of work is radically transformed. The initiative produces leading research on these themes and disseminates to broader audiences through platforms like the MFW podcast series.
Bill's broader research centers on how companies and economies explore new opportunities and generate growth. He considers the leadership and resources necessary to identify, launch and sustain dynamic and enduring organizations. He works with companies worldwide on the development of new ventures and transformations for profitable growth. He also advises governments about investments in the innovative capacities of their nations.
Bill and his family live in Lexington, MA. They enjoy outdoor sports and trail running, are active members of their local church, and maintain close ties to his wife's home country of Finland. Bill grew up in Alabama and remains a passionate college football fan.
Source: Harvard Business School