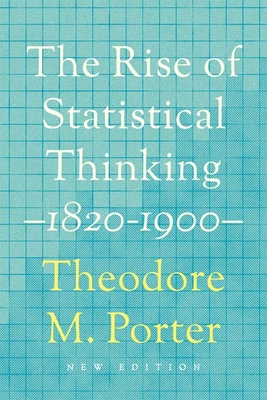 Theodore M Porter

Princeton University Press
The Rise of Statistical Thinking, 1820-1900
0

Rate this book

Key Metrics
Theodore M Porter

Princeton University Press

Paperback

9780691208428

8.9 X 6 X 0.9 inches

1.1 pounds

Mathematics > History & Philosophy

English
$0
Estimated Arrival:
Sep 27 -Sep 29
Available Copies:
10+ Copies

Secure Transaction
Book Description
An essential work on the origins of statistics
The Rise of Statistical Thinking
,
1820-1900
explores the history of statistics from the field's origins in the nineteenth century through to the factors that produced the burst of modern statistical innovation in the early twentieth century. Theodore Porter shows that statistics was not developed by mathematicians and then applied to the sciences and social sciences. Rather, the field came into being through the efforts of social scientists, who saw a need for statistical tools in their examination of society. Pioneering statistical physicists and biologists James Clerk Maxwell, Ludwig Boltzmann, and Francis Galton introduced statistical models to the sciences by pointing to analogies between their disciplines and the social sciences. A new preface by the author looks at how the book has remained relevant since its initial publication, and considers the current place of statistics in scientific research.
The Rise of Statistical Thinking, 1820-1900
Author Bio
Already by 1980, I was interested in diverse sites of knowledge-making--not just universities and academics, but mining boards, statistical agencies (notably census offices), engineering corps, and mental hospitals. Most of my work has involved in some way the uses of statistics, calculation, numbers, measures, and data.
My most recent book, Genetics in the Madhouse: The Unknown History of Human Heredity (2018), recovers a long-forgotten form of hereditary investigation that took shape in the 1820s. As a medical-social field it was framed by bureaucratic demands, yet it extended beyond them right from the start. Its basis was patient data, gathered up and printed in annual asylum reports. Although patients formed the core population for hereditary study, some asylum doctors were working to extend their data empire to near and distant family members as early as 1840.
Doctors and statisticians developed increasingly ambitious tabular technologies to draw out the implications of their data. After 1900, when Mendelism and biometry appeared on the scene, bringing bold ambitions for a new hereditary science, they quickly discovered that asylums and special schools were invaluable, not only for their data, but even for their research methods. Although an obsession with hereditary factors or genes appeared quite early, the work depended mainly on records of bodily measures and diagnosed health conditions, that is, on phenotypic more than genotypic data. Asylum numbers, in my view, were a notable early form of big data.
Historical and social research on data and statistics has become by now a flourishing international enterprise. When I was a graduate student, it was just beginning. My first book, The Rise of Statistical Thinking (1986) [Reprinted in 2020 with new preface], was about the development of statistical ambitions and methods in fields ranging from the social science of statistics to biological evolution and thermodynamics.
This interest in the relations of the natural and the social is also central to my Trust in Numbers: The Pursuit of Objectivity in Science and Public Life (1995) [Reprinted in 2020 with new preface]. There I emphasize that effective quantification is never a matter simply of discovery, but always also of administration, hence of social and technological power. Quantitative objectivity is in a way a form of standardization, the use of rules to confine and tame the personal and subjective.
Science did not always idealize this mechanical form of objectivity, but has come to do so (at least in its rhetoric) as an adaptation to modern political and administrative cultures—which it at the same time has helped to shape. In both of these books I invert the usual account of the relations between natural and social science by showing how some of the crucial assumptions and methods of science arose within contexts of application.
The history of quantification is the history of a social technology, reflecting a sensibility that is as closely linked to fields like accounting and cost-benefit analysis and to social science as to physics. The ethic of systematic calculation as a basis for social decisions—and often, as in inferential statistics, also for scientific demonstration—responds to a political culture marked by distrust of elites and even, in a way, of experts.
Source: Social Sciences Division UCLA