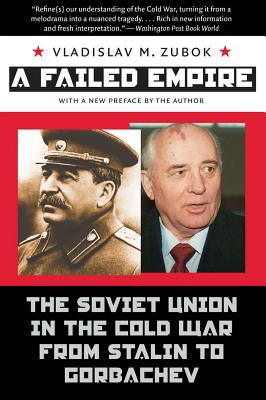 Vladislav M Zubok

University of North Carolina Press
A Failed Empire: The Soviet Union in the Cold War from Stalin to Gorbachev
0

Rate this book

Key Metrics
Vladislav M Zubok

University of North Carolina Press

Paperback

9780807859582

9 X 6.1 X 1.4 inches

1.55 pounds

History > Russia & the Former Soviet Union

English
$0
Estimated Arrival:
Sep 21 -Sep 23
Available Copies:
10+ Copies

Secure Transaction
Book Description
In this widely praised book, Vladislav Zubok argues that Western interpretations of the Cold War have erred by exaggerating either the Kremlin's pragmatism or its aggressiveness. Explaining the interests, aspirations, illusions, fears, and misperceptions of the Kremlin leaders and Soviet elites, Zubok offers a Soviet perspective on the greatest standoff of the twentieth century. Using recently declassified Politburo records, ciphered telegrams, diaries, and taped conversations, among other sources, Zubok offers the first work in English to cover the entire Cold War from the Soviet side. A Failed Empire provides a history quite different from those written by the Western victors. In a new preface for this edition, the author adds to our understanding of today's events in Russia, including who the new players are and how their policies will affect the state of the world in the twenty-first century.
A Failed Empire: The Soviet Union in the Cold War from Stalin to Gorbachev
Author Bio
Vladislav Zubok is professor of international history, with expertise on the Cold War, the Soviet Union, Stalinism, and Russia's intellectual history in the 20th century. His most recent books are The Idea of Russia: The Life and Work of Dmitry Likhachev (2017), Dmitry Likhachev. The Life and the Century (in Russian, 2016) A Failed Empire: the Soviet Union in the Cold War from Stalin to Gorbachev (2007) and Zhivago's Children: the Last Russian Intelligentsia (2009).
Professor Zubok was born and educated in Moscow. He studied for his undergraduate degree at the Moscow State University and studied for his PhD at the Institute for the USA and Canada in Moscow.
In 1994 he became a fellow at the National Security Archive, non-government organization at the University of George Washington. He continued his academic career in the United States as a visiting professor at Amherst College, Ohio University, Stanford University, and the University of Michigan, and in 2004 became a tenured professor at Temple University.
His books earned the Lionel Gelber Prize and the Marshall Shulman Prize of the American Association for Advancement of Slavic Studies. Professor Zubok received numerous grants from the McArthur Foundation and Carnegie Corporation of New York, and from the Yeltsin foundation and the Russkii Mir foundation. Aside from academic work, Professor Zubok organized a number of international archival and educational projects in Russia, Ukraine, and South Caucasus. He held numerous fellowships, including the Norwegian Nobel Institute, the Wilson Center in Washington DC, Collegium Budapest, the Free University for Liberal Studies in Rome, the Rockefeller Center in Bellagio, and the Hoover Institute at Stanford University.
Professor Zubok also consulted a number of documentary films, most importantly Sir Jeremy Isaac's twenty-four series "Cold War" on CNN.
He is currently finishing the book Collapse: The End of the Soviet Union, a study of Soviet collapse within the context of globalization, economics, and nationalism.
Source: The London School of Economics and Political Science and wilsoncenter.org