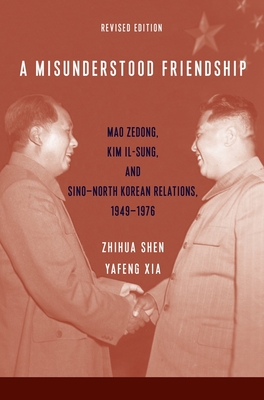 Columbia University Press
A Misunderstood Friendship: Mao Zedong, Kim Il-Sung, and Sino-North Korean Relations, 1949-1976: Revised Edition
0

Rate this book

Key Metrics
Columbia University Press

Paperback

9780231200554

9 X 6 X 1 inches

1.15 pounds

History > Asia - China

English
$0
Estimated Arrival:
Jun 12 -Jun 14
Available Copies:
10+ Copies

Secure Transaction
Book Description
Today, the People's Republic of China is North Korea's only ally on the world stage, a tightly knit relationship that goes back decades. Both countries portray their partnership as one of brotherly affection based on shared political ideals--an alliance as tight as lips to teeth--even though relations have deteriorated in recent years due to China's ascendance and North Korea's intransigence.
In A Misunderstood Friendship, leading diplomatic historians Zhihua Shen and Yafeng Xia draw on previously untapped primary source materials revealing tensions and rivalries to offer a unique account of the China-North Korea relationship. They unravel the twists and turns in high-level diplomacy between China and North Korea from the late 1940s to the death of Mao Zedong in 1976. Based on unprecedented access to Chinese government documents, Soviet and Eastern European archives, and in-depth interviews with former Chinese diplomats and North Korean defectors, Shen and Xia reveal that the tensions that currently plague the alliance between the two countries have been present from the very beginning of the relationship. They significantly revise existing narratives of the Korean War, China's postwar aid to North Korea, Kim Il-sung's ideological and strategic thinking, North Korea's relations with the Soviet Union, and the importance of the Sino-U.S. rapprochement, among other issues. A Misunderstood Friendship adds new depth to our understanding of one of the most secretive and significant relationships of the Cold War, with increasing relevance to international affairs today.
A Misunderstood Friendship: Mao Zedong, Kim Il-Sung, and Sino-North Korean Relations, 1949-1976: Revised Edition
Author Bio
Shen Zhihua was born in 1950. He is based in the East China Normal University, holding positions of Distinguished Professor of the Department of History for Life, Dean of the Institute for Studies of China's Neighboring Countries and Regions?ISCNCR?, and Director of the Center for Cold War International History Studies?CCWIHS). 
He is also Guest Professor at Peking University, Senior Fellow of the Cold War International History Project of the Woodrow Wilson International Center for Scholars, and Senior Fellow of the Taihe Thinktank.
Shen's research interests include the Cold War, history of the Soviet Union, Sino-Soviet relations, and Sino-Korean relations.
Books 
Zuihou de "Tianchao": Mao Zedong?Jin Richeng he Zhong Chao Guanxi, 1945-1976 (The Last "Heavenly Dynasty": Mao Zedong, Kim Il-sung and Sino-DPRK Relations, 1945-1976),2017, 2018 editions.
Chuzai Shizilukou de Xuanze: 1956-1957nian de Zhongguo (Choice at a crossroad: China in 1956 and 1957), 2013.
Wunai de Xuanze: Lengzhan yu Zhong Su Tongmeng de Mingyun (Reluctant choice: the Cold War and the destiny of the Sino-Soviet alliance), 2013.
Mao Zedong, Sidalin yu Chaoxian Zhanzheng (Mao Zedong, Stalin and the Korean War), 2007, 2013, and 2017 editions.
Sikao yu Xuanze: Cong Zhishi Fenzi Huiyi dao Fan Youpai Yundong (Deliberation and choices: from the Intellectual Conference to the Anti-Rightist Movement), 2008.
Sulian Zhuanjia zai Zhongguo (Soviet experts in China), 2003, 2009, and 2015 editions.
Sidalin yu Tietuo: Su Nan Chongtu de Qiyin jiqi Jieguo (Stalin and Tito: origins and consequences of the Soviet-Yugoslavian conflict), 2002.
Zhong Su Tongmeng de Jingji Beijing, 1948-1953 (Economic settings of the Sino-Soviet alliance, 1948-1953), 2000.
Xin Jingji Zhengce yu Sulian Nongye Shehuihua Daolu (New economic policy and the path of socialization of Soviet agriculture), 1994.
Source: Institute for Institutional and Area Studies, Tsinghua University 
more