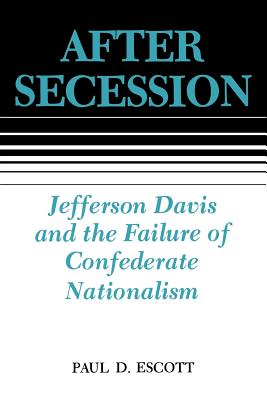 LSU Press
After Secession: Jefferson Davis and the Failure of Confederate Nationalism
0

Rate this book

Key Metrics
LSU Press

Paperback

9780807118078

9.2 X 5.96 X 0.74 inches

1.01 pounds

History > United States - Civil War Period (1850-1877)

English
$0
Estimated Arrival:
Sep 29 -Oct 3
Available Copies:
10+ Copies

Secure Transaction
Book Description
The secession of the southern states from the Union was not merely a culmination of certain events; it was also the beginning of the trial of Confederate nationalism. The slaveholding elite which had led the South out of the Union now had to solidify its support among the nonslaveholding small farmers, a class that constituted the bulk of the white population.But Jefferson Davis and the new government were greatly hampered in their bid for widespread public support, partially because of the same force that had resulted in secession -- the strong states' rights predisposition of many southerners and their opposition to a strong central government -- and partially because of the great social and economic gap that separated the governed from the governors.In After Secession Paul Escott focuses on the challenge that the South's widespread political ideals presented to Jefferson Davis and on the way growing class resentments among citizens in the countryside affected the war effort. New material is included on Jefferson Davis and his policies, and interesting new interpretations of the Confederate government's crucial problems of decision making and failure to respond to the common people are offered. The result is both a fresh look at the pivotal role that strong leadership plays in the establishment of a new nation and a revealing study of how Jefferson Davis' frustrations increasingly affected the quality of his presidency.
After Secession: Jefferson Davis and the Failure of Confederate Nationalism
Author Bio
Paul D. Escott earned his B.A. degree cum laude from Harvard College and his Master's and Ph.D. degrees from Duke University. He taught at UNC Charlotte before coming to Wake Forest, where he served for nine years as Dean of the College.  
He is a member of Phi Beta Kappa, has received fellowships from the Whitney Young, Jr., Foundation and the Rockefeller Foundation, and twice won an award for the best non-fiction book published by a resident of North Carolina. 
His most recent book is Lincoln's Dilemma: Blair, Sumner, and the Republican Struggle over Racism and Equality in the Civil War Era. 
He comments: "The history of the Civil War Era looms large in our nation's struggles to overcome racism and realize its ideals of freedom and equality. Even today popular culture misrepresents the reality of the Civil War era in ways that obscure our understanding of our society's past. Excessive glorification of the Confederacy or the Union can blind us to the nature of the problems that the United States has had to surmount or struggles with still."
Education
 
B.A.      Harvard College 1969
M.A.    Duke University 1972
Ph.D.    Duke University 1974
Source: Wake Forest University 
more