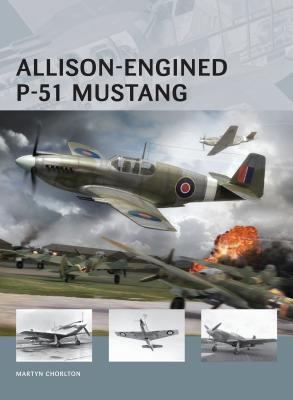 Osprey Publishing (UK)
Allison-Engined P-51 Mustang
0

Rate this book

Key Metrics
Osprey Publishing (UK)

Paperback

9781780961514

9.5 X 7 X 0.3 inches

0.5 pounds

History > Military - World War II

English
$0
Available Copies:
0 Copies

Secure Transaction
Book Description
North American Aviation's rapid and original design development of the P-51 resulted in success versus German and Japanese planes in World War II.
Not enough credit is given to Allison-engined variants of one of the world's most famous fighters. We now associate the name Mustang with the pretty bubble-canopied fighters which now grace our skies as war birds at Airshows around the world today. There is no doubt that the Merlin engine elevated the Mustang's performance from just being very good to exceptional and this, in many people's eyes, peaked with the P-51B and P-51C, not the more familiar and most produced version - the P-51D - which comprises the majority seen today.
From its inception in early 1940, the development of the fighter, which culminated in the prototype NA-73X launched in October, can only be described as rapid. Before the aircraft had even left the drawing board, the RAF had already placed an order for 320 units, such was the confidence in the design and need for a fighter at the time; from preliminary design to maiden flight had taken just 127 days!
By early January 1942, the Mustang was in service with the RAF, flying low-level armed reconnaissance operations over Northern France. This was to be the Mustang's hunting ground all the way up to D-Day and beyond. It had proved to be a highly capable aircraft in this role. While supporting Operation Jubilee over Dieppe, Mustangs were used in a more aggressive capacity for the first time and its first enemy kill was claimed - ironically, the pilot was an American volunteer! The RAF's Allison-engined Mustangs continued to prove their worth from late 1943, flying endless reconnaissance sorties in preparation for the Normandy invasion, and continuing to fly as the Allies slowly pushed eastwards towards Berlin. This was a remarkable service length and, despite later Merlin variants arriving in-theatre, the Mustang I, Ia and II served on the front lines until late 1944.
In American hands the Mustang entered service as a dive-bomber designated as the A-36 Apache/Invader. From late 1942 onwards, this type served with distinction in North Africa, both in the ground-attack role and in air-to-air combat, and would do so in the Far East as well. The complete fighter variant was the P-51A which, along with the A-36, served in North Africa and the Far East, excelling in Burma as part of LtCol P. Cochrane's 1st Air Command Group supporting the Chindits. Like their RAF colleagues, the Americans flew the type in the low-level photographic role, designated as the F-6A and F-6B when it continued to serve with the 9th Air Force until the war's end and beyond.
Allison-Engined P-51 Mustang