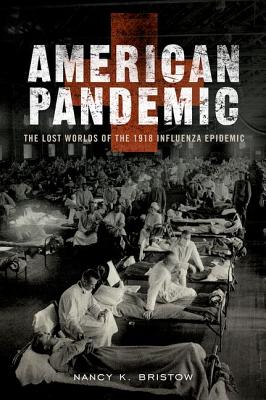 American Pandemic:The Lost Worlds of the 1918 Influenza Epidemic
Interview with Nancy K Bristow
April 14, 2020
Sign Up to listen to full interview.
About Nancy K Bristow
Nancy K. Bristow is Professor of History at the University of Puget Sound in Tacoma, Washington. She is the author of Making Men Moral: Social Engineering during the Great War. Bristow is the great-granddaughter of two of the pandemic's fatalities.
more
Interview Summary
The 1918 influenza pandemic is widely believed to have originated in Kansas before it gained worldwide reputation as Spanish flu, killing at least 50 million people around the globe including 700,000 Americans. With World War I raging for a fourth year, the U.S. leadership and military unwittingly played a key role not only in spreading the lethal virus nationwide but also in exporting it to Europe and onto the rest of the world, with India alone seeing 5% of its people perish.
In her book American Pandemic – The Lost Worlds of the 1918 Influenza Epidemic, historian and author Nancy K. Bristow illuminates personal stories of flu epidemic victims and survivors along with their silent battles, the chaotic public response, the heroic work of doctors and nurses, and scientists' attempts to decode the new infectious agent.
While the U.S. federal government largely ignored the rapid spread of the virus, and the U.S. military lost more soldiers to the flu than in World War I combat, local and state governments were forced to scramble for medical and non-medical resources. Responses from public officials and reactions from citizens differed from one state to another, which eventually led to the virus persisting for more than three years.
With vivid details, Dr. Bristow offers a fascinating recount of social and cultural history during the pandemic years. As Americans resisted the growing powers of the government, medical professionals struggled in providing care and families of flu victims grieved in silence for long periods. Years later, influenza remade individual life but not communal life when the nation eased into its preferred narrative of the medical disaster of 1918 by forgetting the pandemic. 
Key Topics
How was the pandemic of 1918 first discovered?
What role did the U.S. military play in the spread of the lethal virus to Europe and then to the rest of the world?
What made the so-called Spanish flu so fatal?
Why did President Woodrow Wilson and the U.S. federal government downplay the dangers of the flu virus?
What were the three waves of the American Pandemic?
How did the local government responses in San Francisco and Philadelphia lead to completely different outcomes?
How did Americans try to make sense of the pandemic?
Why did early support of the American people from health officials and practitioners in combating virus wane?
Why were nearly 700,000 American lives lost as the medical profession struggled to deal with the new infectious agent?
Why was the American pandemic forgotten?
Other Books by Author