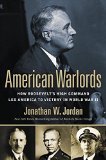 American Warlords: How Roosevelt's High Command Led America to Victory in World War II
Interview with Jonathan W. Jordan
July 12, 2016
Sign Up. Full interview.
About Jonathan W. Jordan
Jonathan W. Jordan is the New York Times best-selling Brothers Rivals Victors: Eisenhower, Patton, Bradley and the Partnership That Drove the Allied Conquest in Europe, and the award-winning book Lone Star Navy: Texas, the Fight for the Gulf of Mexico, and the Shaping of the American West. He is a contributing author to The Armchair Reader: World War II and The Armchair Reader: The Amazing Book of World History, and the editor of the Library of Texas edition of Commodore Edwin Ward Moore's 1843 work To the People of Texas.  His writing has appeared in World War II magazine, Armchair General, Military History, World War II History, and MHQ: The Quarterly Journal of Military History, and he is a regular book reviewer for The Wall Street Journal. He has appeared on radio, television and film documentaries on a variety of history topics.
A native of Savannah, Georgia, Jon grew up on Air Force bases, from which his father flew C-141 Starlifters for the Military Airlift Command during the Vietnam War. He lived in New Jersey, Ohio, and the Philippines until 1977, when his family moved to Selma, Alabama. Jon obtained an accounting degree from Samford University in Birmingham, Alabama and his law degree from Vanderbilt University.  He practiced law in Texas for nine years before moving to Marietta, Georgia. He lives in Marietta with his wife, Kate, their three children, and three dogs of uncertain parentage. He currently practices commercial litigation and corporate bankruptcy law at the Atlanta-based firm King & Spalding LLP.
When not cheering from basketball, fencing and soccer sidelines, or hiking, shooting or camping, Jon is working on his next book.
Interview Summary
In the first days of U.S. involvement in World War II, President Franklin Roosevelt faced a severe lack of resources, as well as various branches of the military at odds with each other, as he prepared the nation to wage a "total war."
Putting aside any personal rivalries and ambitions, Secretary of War Henry Stimson, General George C. Marshall and Admiral Ernest J. King had to rise to the challenge of working together towards defeating the Axis powers. 
Key Topics
How did President Franklin Roosevelt exert influence over Congress, the press, and the public in preparation for the war in Asia and Europe?
What were Roosevelt's proactive initiatives amidst the complex relationships between him, Churchill, and Stalin?
What did Roosevelt's administration do to sell a peacetime draft to American youth?
Why was Admiral King unpopular with the navy admirals who resented his advocacy of naval aviation that proved to be so effective in the war against Japan?
How did America's supplies of sophisticated weapons to the United Kingdom and the Soviet Union tip the balance in the global conflict?
Other personalities discussed in the book include: Douglas MacArthur, Dwight Eisenhower, Eleanor Roosevelt, and Charles de Gaulle.
Other Books by Author