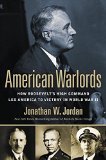 American Warlords: How Roosevelt's High Command Led America to Victory in World War II
Book Summary
In the first days of U.S. involvement in World War II, President Franklin Roosevelt faced a severe lack of resources, as well as various branches of the military at odds with each other, as he prepared the nation to wage a "total war."
Putting aside any personal rivalries and ambitions, Secretary of War Henry Stimson, General George C. Marshall and Admiral Ernest J. King had to rise to the challenge of working together towards defeating the Axis powers. 
Key Topics
How did President Franklin Roosevelt exert influence over Congress, the press, and the public in preparation for the war in Asia and Europe?
What were Roosevelt's proactive initiatives amidst the complex relationships between him, Churchill, and Stalin?
What did Roosevelt's administration do to sell a peacetime draft to American youth?
Why was Admiral King unpopular with the navy admirals who resented his advocacy of naval aviation that proved to be so effective in the war against Japan?
How did America's supplies of sophisticated weapons to the United Kingdom and the Soviet Union tip the balance in the global conflict?
Other personalities discussed in the book include: Douglas MacArthur, Dwight Eisenhower, Eleanor Roosevelt, and Charles de Gaulle.
Other Books by Author