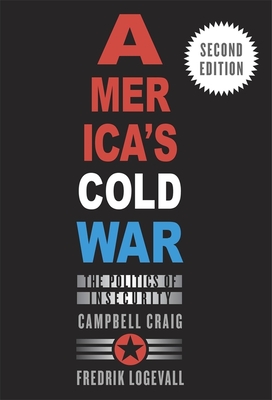 Belknap Press
America's Cold War: The Politics of Insecurity, Second Edition
0

Rate this book

Key Metrics
Belknap Press

Paperback

9780674244931

8.2 X 5.4 X 1.3 inches

0.9 pounds

History > United States - 20th Century

English
$0
Available Copies:
0 Copies

Secure Transaction
Book Description
A creative, carefully researched, and incisive analysis of U.S. strategy during the long struggle against the Soviet Union.
--Stephen M. Walt, Foreign Policy
Craig and Logevall remind us that American foreign policy is decided as much by domestic pressures as external threats. America's Cold War is history at its provocative best.
--Mark Atwood Lawrence, author of The Vietnam War
The Cold War dominated world affairs during the half century following World War II. America prevailed, but only after fifty years of grim international struggle, costly wars in Korea and Vietnam, trillions of dollars in military spending, and decades of nuclear showdowns. Was all of that necessary?
In this new edition of their landmark history, Campbell Craig and Fredrik Logevall engage with recent scholarship on the late Cold War, including the Reagan and Bush administrations and the collapse of the Soviet regime, and expand their discussion of the nuclear revolution and origins of the Vietnam War. Yet they maintain their original argument: that America's response to a very real Soviet threat gave rise to a military and political system in Washington that is addicted to insecurity and the endless pursuit of enemies to destroy. America's Cold War speaks vividly to debates about forever wars and threat inflation at the center of American politics today.
America's Cold War: The Politics of Insecurity, Second Edition
Author Bio
I'm an historian and theorist of modern international politics, with particular interests in the nuclear revolution, US foreign policy, and the Cold War.  On these topics I have written several books and many articles, reviews, and essays.
I have just completed work on Marxism and the nuclear revolution, in the form of an article on nuclear weapons and current Marxist theory in the European Journal of International Relations and, with my Cardiff colleague Sergey Radchenko, an article in the Journal of Strategic Studies on Khrushchev's encounter with nuclear weapons and what this says about contemporary attempts to revive nuclear strategy.  
My colleague Jan Ruzicka and I are working on our book on US preponderance and the nuclear nonproliferation regime, which will be published by Cornell University Press's series in Security Affairs.
I've been a professor here at Cardiff since February 2016.  Before that I was professor at Aberystwyth University (2009-16) and at Southampton University (2005-09).  
I have held senior visiting fellowships at Yale University (2004-05), the Norwegian Nobel Institute (2009), the European University Institute (2013), and Bristol University (2015).
Education
BA Carleton College (1986), MA University of Chicago (1988), PhD Ohio (1995)
more
Videos