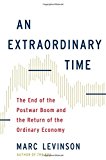 An Extraordinary Time: The End of the Postwar Boom and the Return of the Ordinary Economy
Book Summary
In the last four decades, the United States and other developed nations have struggled to revive economic growth above 3%. Politicians and economists of all stripes have tried Keynesian stimulus, price controls, and conservative solutions ranging from free market incentives to privatization.
With the help of comprehensive research, Marc Levinson explains argues that these political and economic measures have failed to achieve higher economic growth because of a permanent slowing of productivity growth. He also reminds us that the coveted growth target, once set as a benchmark in the booming years after World War II, is inherently elusive in the reality of today's economy. 
Key Topics
Why was the period between 1948 and 1973 an extraordinary time for the global economy?
What led to above-normal growth in that time period?
What is productivity and how can it be measured?
Why did various liberal solutions such as price control and economic stimulus packages fail to produce long-term growth?
Why did a conservative agenda of privatization, deregulation, smaller government, and free market also fail to lift economic growth in the long term?
Why is it so hard and unpredictable to increase productivity year after year?
How does income inequality affect economic growth?
What prevents technological advances from showing up in productivity increase?
Can we control productivity increase and make it more predictable?
What factors, other than economic, are involved in building a strategy towards increasing productivity and economic growth?
Other Books by Author