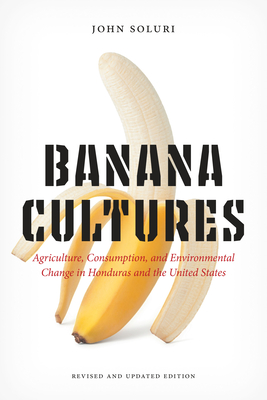 University of Texas Press
Banana Cultures: Agriculture, Consumption, and Environmental Change in Honduras and the United States
0

Rate this book

Key Metrics
University of Texas Press

Paperback

9781477322802

-

-

History > Latin America - Central America

English
$0
Estimated Arrival:
May 31 -Jun 2
Available Copies:
1 Copies

Secure Transaction
Book Description
Bananas, the most frequently consumed fresh fruit in the United States, have been linked to Miss Chiquita and Carmen Miranda, banana republics, and Banana Republic clothing stores--everything from exotic kitsch, to Third World dictatorships, to middle-class fashion. But how did the rise in banana consumption in the United States affect the banana-growing regions of Central America? In this lively, interdisciplinary study, John Soluri integrates agroecology, anthropology, political economy, and history to trace the symbiotic growth of the export banana industry in Honduras and the consumer mass market in the United States.
Beginning in the 1870s when bananas first appeared in the U.S. marketplace, Soluri examines the tensions between the small-scale growers, who dominated the trade in the early years, and the shippers. He then shows how rising demand led to changes in production that resulted in the formation of major agribusinesses, spawned international migrations, and transformed great swaths of the Honduran environment into monocultures susceptible to plant disease epidemics that in turn changed Central American livelihoods. Soluri also looks at labor practices and workers' lives, changing gender roles on the banana plantations, the effects of pesticides on the Honduran environment and people, and the mass marketing of bananas to consumers in the United States. His multifaceted account of a century of banana production and consumption adds an important chapter to the history of Honduras, as well as to the larger history of globalization and its effects on rural peoples, local economies, and biodiversity.
Banana Cultures: Agriculture, Consumption, and Environmental Change in Honduras and the United States
Author Bio
Professor Soluri's research and teaching explore the relationship between social and environmental change in Latin America. He is currently completing a book project, Refashioning Patagonia: Animals, International Markets, and the Particularity of Place, that examines how the commodification of wild and domesticated animals for textiles transformed Patagonia. 
He recently collaborated with colleagues in Colombia and Brazil to edit a new synthesis of modern Latin American environmental history.  In addition, the University of Texas will be publishing a second edition of his award-winning book, Banana Cultures, in 2021.
During the 2019-20 academic year, he co-convened an A.W. Mellon funded Sawyer Seminar, "Bread and Water: Access, Belonging, and Environmental Justice in the City." He directed Matthew Nielsen's dissertation "Unruliness at the Margins: Environment and Politics in the Lower Orinoco River Basin, 1600s - 1700" (2019). His current graduate student, 
Francisco Javier Bonilla, is working on a history of water infrastructure in twentieth-century Panama. Beyond the academy, Soluri chairs the Board of Directors of Building New Hope, a Pittsburgh-based not-for-profit that partners with Central Americans to promote youth education and sustainable agriculture.
Education
 
Ph.D.: University of Michigan, 1998
Source: Carnegie Mellon University 
more