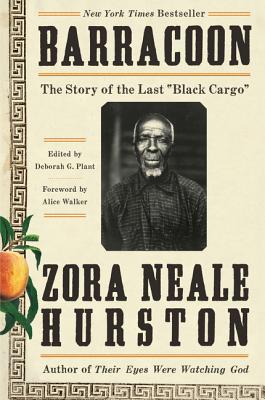 Amistad Press
Barracoon: The Story of the Last Black Cargo
0

Rate this book

Key Metrics
Amistad Press

Paperback

9780062748218

8 X 5.3 X 0.7 inches

0.44 pounds

History > African American & Black

English
$0
Estimated Arrival:
Jun 6 -Jun 8
Available Copies:
10+ Copies

Secure Transaction
Book Description
In 1927, Zora Neale Hurston went to Plateau, Alabama to interview eighty-six-year-old Cudjo Lewis. Of the millions of men, women, and children transported from Africa to America as slaves, Cudjo was the only person alive to tell the story of this integral part of the nation's history. Hurston was there to record Cudjo's firsthand account of the raid that led to his capture and bondage fifty years after the Atlantic slave trade was outlawed in the United States.
In 1931, Hurston returned to Plateau. Spending more than three months there, she talked in depth with Cudjo about the details of his life. During those weeks, the young writer and the elderly formerly enslaved man ate peaches and watermelon that grew in the backyard and talked about Cudjo's past: memories from his childhood in Africa, the horrors of being captured and held in a barracoon for selection by American slavers, the harrowing experience of the Middle Passage packed with more than 100 other souls aboard the Clotilda, and the years he spent in slavery until the end of the Civil War.
Based on interviews featuring Cudjo's unique vernacular and written from Hurston's perspective with the compassion and singular style that have made her one of the preeminent American authors of the twentieth century, Barracoon masterfully illustrates the tragedy of slavery and of one life forever defined by it. Offering insight into the pernicious legacy that continues to haunt us all, black and white, this poignant and powerful work is an invaluable contribution to our shared history and culture.
Edited and with an introduction by Deborah G. Plant, and with a foreward from the Pulitzer Prize and the National Book Award-winning author Alice Walker, the publication of Zora Neale Hurston's Barracoon is a literary event for students, academics, and every reader.
Freshman Common Read: Howard University
Barracoon: The Story of the Last Black Cargo
Author Bio
Zora Hurston was a world-renowned writer and anthropologist. Hurston's novels, short stories, and plays often depicted African American life in the South. Her work in anthropology examined black folklore. Hurston influenced many writers, forever cementing her place in history as one of the foremost female writers of the 20th century.
Zora Neale Hurston was born in Notasulga, Alabama on January 15, 1891. Both her parents had been enslaved. At a young age, her family relocated to Eatonville, Florida where they flourished. Eventually, her father became one of the town's first mayors. In 1917, Hurston enrolled at Morgan College, where she completed her high school studies. She then attended Howard University and earned an associate's degree. Hurston was an active student and participated in student government. She also co-founded the school's renowned newspaper, The Hilltop. In 1925, Hurston received a scholarship to Barnard College and graduated three years later with a BA in anthropology. During her time as a student in New York City, Hurston befriended other writers such as Langston Hughes and Countee Cullen. Together, the group of writers joined the black cultural renaissance which was taking place in Harlem.
Throughout her life, Hurston, dedicated herself to promoting and studying black culture. She traveled to both Haiti and Jamaica to study the religions of the African diaspora. Her findings were also included in several newspapers throughout the United States. Hurston often incorporated her research into her fictional writing. As an author Hurston, started publishing short stories as early as 1920. Unfortunately, her work was ignored by the mainstream literary audience for years. However, she gained a following among African Americans. In 1935, she published Mules and Men. She later, collaborated with Langston Hughes to create the play, Mule Bone. She published three books between 1934 and 1939. One of her most popular works was Their Eyes were Watching God. The fictional story chronicled the tumultuous life of Janie Crawford. Hurston broke literary norms by focusing her work on the experience of a black woman. 
Hurston was not only a writer, she also dedicated her life to educating others about the arts. In 1934, she established a school of dramatic arts at Bethune-Cookman College. Five years later she worked as a drama teacher at the North Carolina College for Negroes at Durham. Although Hurston eventually received praise for her works, she was often underpaid. Therefore, she remained in debt and poverty. After years of writing, Hurston had to enter the St. Lucie County Welfare Home as she was unable to take care of herself. Hurston died of heart disease on January 28, 1960. At first, her remains were placed in an unmarked grave. In 1972, author Alice Walker located her grave and created a marker. Although, Hurston's work was not widely known during her life, in death she ranks among the best writers of the 20th century. Her work continues to influences writers throughout the world.
Source: National Women's History Museum 
more