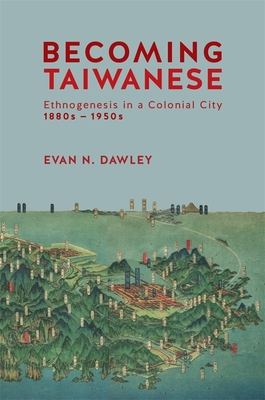 Harvard University Press
Becoming Taiwanese: Ethnogenesis in a Colonial City, 1880s to 1950s
0

Rate this book

Key Metrics
Harvard University Press

Hardcover

9780674237209

9.1 X 5.9 X 1.3 inches

1.6 pounds

History > Asia - China

English
$0
Available Copies:
0 Copies

Secure Transaction
Book Description
What does it mean to be Taiwanese? This question sits at the heart of Taiwan's modern history and its place in the world. In contrast to the prevailing scholarly focus on Taiwan after 1987, Becoming Taiwanese examines the important first era in the history of Taiwanese identity construction during the early twentieth century, in the place that served as the crucible for the formation of new identities: the northern port city of Jilong (Keelung).
Part colonial urban social history, part exploration of the relationship between modern ethnicity and nationalism, Becoming Taiwanese offers new insights into ethnic identity formation. Evan Dawley examines how people from China's southeastern coast became rooted in Taiwan; how the transfer to Japanese colonial rule established new contexts and relationships that promoted the formation of distinct urban, ethnic, and national identities; and how the so-called retrocession to China replicated earlier patterns and reinforced those same identities. Based on original research in Taiwan and Japan, and focused on the settings and practices of social organizations, religion, and social welfare, as well as the local elites who served as community gatekeepers, Becoming Taiwanese fundamentally challenges our understanding of what it means to be Taiwanese.
Becoming Taiwanese: Ethnogenesis in a Colonial City, 1880s to 1950s
Author Bio
Evan Dawley is Associate Professor of History at Goucher College, where he has taught since 2013, and he previously worked in the Office of the Historian at the U.S. Department of State. 
His research relates to modern East Asian history, with particular attention to Taiwan, China, and Japan, as well as identity formation, imperialism, and international/transnational history. His first monograph, Becoming Taiwanese: Ethnogenesis in a Colonial City, 1880s-1950s, was published in 2019 by the Harvard Asia Center Press. 
He has published essays on Japanese women settlers in Taiwan during the 1910s, the deportation of Japanese from Taiwan after 1945, and on recent scholarship on Taiwanese identity. He has co-edited The Decade of the Great War: Japan and the Wider World in the 1910s, with Tosh Minohara and Tze-ki Hon (Brill, 2014), and is co-editor of Beyond Versailles: The 1919 Moment in East Asia, with Tosh Minohara, forthcoming. 
In his new project, tentatively titled "Chinese at Home, Chinese Abroad, and the International Construction of Chinese Nationalism," he explores the relations between the ROC government and communities of Chinese and Taiwanese abroad, and interactions with foreign governments around these communities, from the 1920s to the 1970s.
My first book, Becoming Taiwanese, sought to answer two main questions: who are the Taiwanese, and how did they become so in the context of multiple waves of colonization? 
Focusing on the social history of Taiwan's northern port city of Jilong, I uncovered a history of identity construction that challenges standard narratives of Taiwanese national identity and argues for a process of ethno-genesis and a dynamic, overlapping but not coterminous, relationship between ethnicity and nationalism. 
In my next project, "Chinese at Home, Chinese Abroad," I am looking at the process of national construction, and the fissures within the modern nation-state, by exploring how nationalities are constructed across and between states through outreach to, and disputes around, overseas Chinese communities in Japan, Singapore, Vietnam, and the United States.
Source: Goucher College 
more