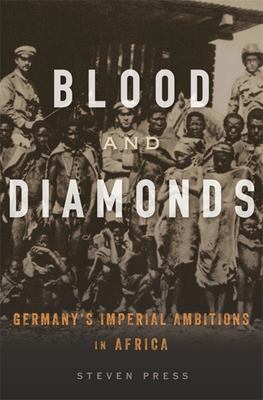 Harvard University Press
Blood and Diamonds: Germany's Imperial Ambitions in Africa
0

Rate this book

Key Metrics
Harvard University Press

Hardcover

9780674916494

9.5 X 6.5 X 1.2 inches

1.5 pounds

History > Africa - South - General

English
$0
Available Copies:
0 Copies

Secure Transaction
Book Description
Diamonds have long been bloody. A new history shows how Germany's ruthless African empire brought diamond rings to retail display cases in America--at the cost of African lives.
Since the late 1990s, activists have campaigned to remove conflict diamonds from jewelry shops and department stores. But if the problem of conflict diamonds--gems extracted from war zones--has only recently generated attention, it is not a new one. Nor are conflict diamonds an exception in an otherwise honest industry. The modern diamond business, Steven Press shows, owes its origins to imperial wars and has never escaped its legacy of exploitation.
In Blood and Diamonds, Press traces the interaction of the mass-market diamond and German colonial domination in Africa. Starting in the 1880s, Germans hunted for diamonds in Southwest Africa. In the decades that followed, Germans waged brutal wars to control the territory, culminating in the genocide of the Herero and Nama peoples and the unearthing of vast mineral riches. Press follows the trail of the diamonds from the sands of the Namib Desert to government ministries and corporate boardrooms in Berlin and London and on to the retail counters of New York and Chicago. As Africans working in terrifying conditions extracted unprecedented supplies of diamonds, European cartels maintained the illusion that the stones were scarce, propelling the nascent US market for diamond engagement rings. Convinced by advertisers that diamonds were both valuable and romantically significant, American purchasers unwittingly funded German imperial ambitions into the era of the world wars.
Amid today's global frenzy of mass consumption, Press's history offers an unsettling reminder that cheap luxury often depends on an alliance between corporate power and state violence.
Blood and Diamonds: Germany's Imperial Ambitions in Africa
Author Bio
teven Press is an Assistant Professor of History and an affiliated member of the Freeman Spogli Institute for International Studies, the Center for African Studies, and the Stanford Center for Law and History.
Press' first book, Rogue Empires: Contracts and Conmen in Europe's Scramble for Africa (published Spring 2017 with Harvard University Press), received the American Historical Association's Pacific Coast Branch Book Award. Rogue Empires draws on archival work in ten countries and three languages. It offers a new approach to understanding European colonialism in Africa by examining one of its pivotal projects: empires run by companies and individual adventurers.
Press' second book, Blood and Diamonds: Germany's Imperial Ambitions in Africa, will appear in April 2021 with Harvard University Press.
In an article in the Journal of Modern History, Press explored the exchanges between Germany, China, and Cuba that led to the USA's lease for Guantanamo Bay in 1903. His article on post-Napoleonic European nationalism appeared in Central European History.
Press graduated with a B.A. from Vanderbilt University and an A.M. and Ph.D. from Harvard University. He taught at Harvard and Vanderbilt before coming to Stanford. His research interests include European sovereignty, international relations, and commodity networks.
Source: Stanford University 
more
Videos