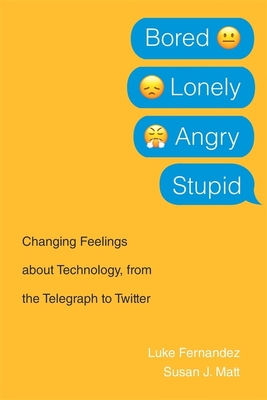 Harvard University Press
Bored, Lonely, Angry, Stupid: Changing Feelings about Technology, from the Telegraph to Twitter
0

Rate this book

Key Metrics
Harvard University Press

Paperback

9780674244726

8.2 X 5.4 X 1.4 inches

0.95 pounds

Computers > Social Aspects

English
$0
Available Copies:
0 Copies

Secure Transaction
Book Description
Technologies have been shaping [our] emotional culture for more than a century, argue computer scientist Luke Fernandez and historian Susan Matt in this original study. Marshalling archival sources and interviews, they trace how norms (say, around loneliness) have shifted with technological change.
--Nature
A powerful story of how new forms of technology are continually integrated into the human experience...Anyone interested in seeing the digital age through a new perspective should be pleased with this rich account.
--Publishers Weekly
Facebook makes us lonely. Selfies breed narcissism. On Twitter, hostility reigns. Pundits and psychologists warn that digital technologies substantially alter our emotional states, but in this lively look at our evolving feelings about technology since the advent of the telegraph, we learn that the gadgets we use don't just affect how we feel--they can profoundly change our sense of self. When we say we're bored, we don't mean the same thing as a Victorian dandy. Could it be that political punditry has helped shape a new kind of anger? Luke Fernandez and Susan J. Matt take us back in time to consider how our feelings of loneliness, vanity, and anger have evolved in tandem with new technologies.
Bored, Lonely, Angry, Stupid: Changing Feelings about Technology, from the Telegraph to Twitter
Author Bio
I work at the intersection of computing and the humanities. On the one hand this means that I develop digital tools that help humanists teach more effectively. On the other hand it means that I use the framework of the humanities to shed light on the culture of computing and how computing, in turn, is shaping American culture. I am currently co-authoring a history that traces some of the hopes and anxieties that Americans have harbored about information technology.
Education 
Ph.D., Political Science, Cornell University
M.A., Political Science, Cornell University
B.A in Political Science, Amherst College
Source: Weber State University 
more
Videos