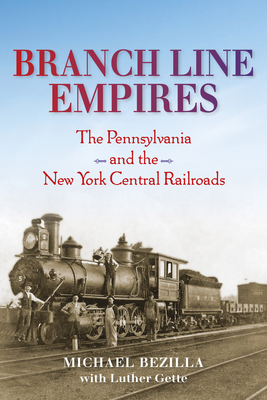 Indiana University Press
Branch Line Empires: The Pennsylvania and the New York Central Railroads
0

Rate this book

Key Metrics
Indiana University Press

Hardcover

9780253029584

9.02 X 5.98 X 0.88 inches

1.52 pounds

Transportation > Railroads - History

English
$0
Estimated Arrival:
Sep 26 -Sep 28
Available Copies:
10+ Copies

Secure Transaction
Book Description
The Pennsylvania and the New York Central railroads helped to develop central Pennsylvania as the largest source of bituminous coal for the nation. By the late 19th century, the two lines were among America's largest businesses and would soon become legendary archrivals. The PRR first arrived in the 1860s. Within a few years, it was sourcing as much as four million tons of coal annually from Centre County and the Moshannon Valley and would continue do so for a quarter-century. The New York Central, through its Beech Creek Railroad affiliate, invaded the region in the 1880s, first seeking a dependable, long-term source of coal to fuel its locomotives but soon aggressively attempting to break its rival's lock on transporting the area's immense wealth of mineral and forest products.
Beginning around 1900, the two companies transitioned from an era of growth and competition to a time when each tacitly recognized the other's domain and sought to achieve maximum operating efficiencies by adopting new technology such as air brakes, automatic couplers, all-steel cars, and diesel locomotives. Over the next few decades, each line began to face common problems in the form of competition from other forms of transportation and government regulation; in 1968 the two businesses merged.
Branch Line Empires offers a thorough and captivating analysis of how a changing world turned competition into cooperation between two railroad industry titans.
Branch Line Empires: The Pennsylvania and the New York Central Railroads
Author Bio
Michael Bezilla, born in Osceola Mills on March 8, 1950, was the son of Steve A. and Hellen (Penny) Bezilla. Since childhood, Bezilla had an interest in railroads and general transportation. He graduated with a B.S. from the Indiana University of Pennsylvania in 1972. In graduate school, Bezilla studied the history of technology. He earned his M.A. from Pennsylvania State University in 1975 and his Ph.D. in 1978. His dissertation discussed the progression of steam engines towards electrified rail lines, how it was hampered by the Great Depression because of its great expense, and how the Pennsylvania Railroad lines became the busiest of North America in the realm of electrically-driven trains, lowering operating costs and improving services and energy efficiency in comparison to diesel-driven engines.
In 1975, Bezilla married Deborah A. Gyurco. They have a daughter, Pamela. Since then, Bezilla has served as a research assistant for WPSX-TV in 1975, an engineering historian for Penn State from 1978 to 1979, university historian from 1979 to 1983, and an agricultural historian since 1983.
His first book, Electric Traction on the Pennsylvania Railroad (1980), stemmed from the subject of his doctoral thesis and was supported by the Association of American Railroads and the Pennsylvania Transportation Institution. He told Contemporary Authors that his writing attempts "to appeal to the popular audience on the one hand and to academic readers on the other...This dualistic approach is scorned by many historians, who in essence write for other historians and ignore the larger popular readership." 
In his first book, he further addressed the dilemma of "how to please the historian without alienating the rail buff, or vice versa" by synthesizing "the diverse technological, economic, political, social, and, yes, romantic elements of railway electrification into a coherent, readable narrative." His second publication, Engineering Education at Penn State (1981), attempts to redefine the university's early curriculum as not merely that of an agricultural institution, following the history of the engineering college in the context of state and national events, and also how government land grants helped Penn State requisition public land for further technological developments.
In 1985, university president John Oswald commissioned Bezilla to write in Penn State: An Illustrated History. Bezilla's objective was to update and continue Wayland Dunway's history of the university, published in 1946. In the book, Bezilla notes that his work was meant "to guide and to inform, rather than to commemorate. Charting the future is at best risky and at worst impossible without some knowledge of the past. Before Penn State can know where it is going, or where it wants to go, it must know where it has been." Unlike how university historian Erwin Runkle was refused publication in 1932 because of how he characterized various officials, Bezilla told The Daily Collegian that he remained free to research and write about Penn State's history without any administrative guidance. 
In a comment to Penn State's Daily Collegian, John Mennell of Slippery Rock University's History Department called this book "arguably the most informative yet interesting history of a public university yet to be written."
Bezilla is also a member of the Organization of American Historians, the Society for the History of Technology, the Railroad and Locomotive Historical Society, the Pennsylvania Historical Association, the Central Pennsylvania Society to Promote Animal Welfare and Safety (serving as a member of the board of directors, 1980-82), the Girl Scouts of the America, and a member of Pennsylvania History's editorial board. 
He currently is the director of the Advancement Projects and Communications department, in the Office of University Relations, at the Pennsylvania State University. This office is responsible for increasing public awareness and reputation of Penn State, including supporting the university's private funding-raising program, managing various brochures and other publications, and maintaining the historical markers on campus. Michael Bezilla currently resides in State College, Pennsylvania.
Source: The Pennsylvania State University 
more