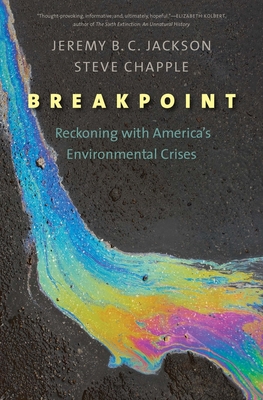 Yale University Press
Breakpoint: Reckoning with America's Environmental Crises
0

Rate this book

Key Metrics
Yale University Press

Hardcover

9780300179392

8.4 X 5.8 X 1.2 inches

1.1 pounds

Science > Environmental Science (see also Chemistry - Environmental)

English
$0
Available Copies:
0 Copies

Secure Transaction
Book Description
An insightful look at the American environmental crisis and emerging solutions from the heartland to the coasts in the era of global climate change
Eminent ecologist Jeremy B. C. Jackson and award-winning journalist Steve Chapple traveled the length of the Mississippi River interviewing farmers, fishermen, scientists, and policymakers to better understand the mounting environmental problems ravaging the United States. Along their journey, which quickly expands to California, Florida, and New York, the pair uncovered surprising and profound connections between ecological systems and environmental crises across the country. Artfully weaving together independent research and engaging storytelling, Jackson and Chapple examine the looming threats from recent hurricanes and fires, industrial agriculture, river mismanagement, extreme weather events, drought, and rising sea levels that are pushing the country toward the breaking point of ecological and economic collapse.
Yet, despite these challenges, the authors provide optimistic and practical solutions for addressing these multidimensional issues to achieve greater environmental stability, human well-being, and future economic prosperity. With a passionate call to action, they look hopefully toward emerging and achievable solutions to preserve the country's future.
Breakpoint: Reckoning with America's Environmental Crises
Author Bio
Jeremy Jackson is the scientific director of the Global Coral Reef Monitoring Network, senior advisor on coral reefs for the International Union for the Conservation of Nature, emeritus professor at the Scripps Institution of Oceanography and emeritus staff scientist at the Smithsonian Tropical Research Institute.
He is also a Research Associate at the American Museum of Natural History. Jackson studies threats and solutions to human impacts on the environment and the ecology and evolution of tropical seas. He is a member of the United States National Academy of Sciences and the American Academy of Arts and Sciences and has won numerous international prizes and awards. 
He is the author of more than 170 scientific publications and eleven books, most recently Breakpoint: Reckoning with America's Environmental Crises and Shifting Baselines in Fisheries: Using the Past to Manage the Future.
Research Interests

I study the historical ecology and evolution of marine ecosystems and the ways that human activities have affected their biodiversity and function. I am currently working on a synthesis of my last thirty five years of paleobiological research on the evolution of Caribbean marine communities as affected by their isolation from the Pacific Ocean due to the uplift of the Isthmus of Panama, with particular emphasis on coral reefs and associated seafloor biota. Another major focus is the decline of coral reefs due to exploitation, pollution, and climate change and the potential for reef restoration. I am also working on a new book on the historical ecology of the global tropics.
Source: Smithsonian and National Academy of Sciences 
more
Videos