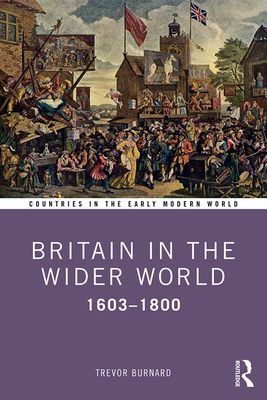 Routledge
Britain in the Wider World: 1603-1800
0

Rate this book

Key Metrics
Routledge

Paperback

9781138313606

9.1 X 6.1 X 0.6 inches

0.85 pounds

History > Africa - General

English
$0
Estimated Arrival:
Jun 6 -Jun 8
Available Copies:
10+ Copies

Secure Transaction
Book Description
Britain in the Wider World
traces the remarkable transformation of Britain between 1603 and 1800 as it developed into a world power.
At the accession of James VI and I to the throne of England in 1603, the kingdoms of England/Wales, Scotland and Ireland were united only by having a monarch in common. They had little presence in the world and were fraught with violence. Two centuries later, the consolidated state of the United Kingdom, established in 1801, was an economic powerhouse and increasingly geopolitically important, with an empire that stretched from the Americas, to Asia and to the Pacific. The book offers a fresh approach to assessing Britain's evolution, situating Britain within both imperial and Atlantic history, and examining how Britain came together politically and socially throughout the eighteenth century. In particular, it offers a detailed exploration of Britain as a fiscal-military state, able to fight major wars without bankrupting itself. Through studying patterns of political authority and gender relationships, it also stresses the constancy of fundamental features of British society, economy, and politics despite considerable internal changes.
Detailed, accessibly written, and enhanced by illustrations, Britain in the Wider World is ideal for students of early modern Britain.
Britain in the Wider World: 1603-1800
Author Bio
Trevor Burnard is the Wilberforce Professor of Slavery and Emancipation at the University of Hull and the Director of the Wilberforce Institute. Between 2011 and 2019 he was Professor of American History and Head of School(2011-18) in the School of Historical and Philosophical Studies at the University of Melbourne, where he has been a faculty member since February 2011. 
In addition to many articles, book chapters and edited books on the Caribbean and the Chesapeake, Trevor has written the following monographs. One was Creole Gentlemen: The Maryland Elite 1690-1776 (New York and London: Routledge, 2002) and a prize-winning study of a Jamaican slave overseer, Mastery, Tyranny, and Desire: Thomas Thistlewood and His Slaves in the Anglo-Jamaican World (Chapel Hill: University of North Carolina Press, 2004). 
He has published a study of plantation societies in late seventeenth and eighteenth-century British North America and the West Indies in the American Beginnings Series called Planters, Merchants, and Slaves: Plantation Societies in British America, 1650-1820 (Chicago: University of Chicago Press, 2015). In June 2016, he published a co-authored comparative study of colonialism and slavery (with John Garrigus of University of Texas at Arlington) called The Plantation Machine: Atlantic Capitalism in French Saint-Domingue and British Jamaica (Philadelphia: University of Pennsylvania Press, 2016). 
In 2020 he published two syntheses – The Atlantic in World History, 1492- 1830 (London: Bloomsbury) and Britain in the Wider World (London: Routledge) – and a monograph on mid to late eighteenth-century Jamaica, Jamaica in the Age of Revolution (Philadelphia: Pennsylvania). He has been the editor-in-chief of the Oxford Bibliography Online in Atlantic History since 2009.
Source: trevorburnard.com
more