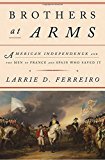 Brothers at Arms: American Independence and the Men of France and Spain Who Saved It
Interview with Larrie D. Ferreiro
October 25, 2017
Sign Up. Full interview.
About Larrie D. Ferreiro
Larrie D. Ferreiro is a naval architect and historian. He trained and worked as a naval architect in the U.S., British, and French navies and the U.S. Coast Guard, and has served as technical expert for the International Maritime Organization. He has a Ph.D. in the History of Science and Technology from Imperial College, London.
Ferreiro teaches history and engineering at George Mason University in Virginia and the Stevens Institute of Technology in New Jersey. He is the author of Measure of the Earth: The Enlightenment Expedition That Reshaped Our World and Ships and Science: The Birth of Naval Architecture in the Scientific Revolution, 1600-1800. He lives with his wife and their sons in Virginia.
Interview Summary
The American Revolutionary War was anything but a lonely struggle, as it is widely believed. In fact, the fight for independence was multi-faced, fought on many fronts, and almost of global proportions.
In an interview with Readara, historian and author Larrie D. Ferreiro pierces the popular myth and explains the global magnitude of those turbulent eight years of international coalition. Ferreiro's authoritative account is based on original research conducted using personal papers and official documents in several languages.
At the end of the Seven Years' War, France and Spain were ready to take revenge on Great Britain, which was expected to easily crush the rising rebellion in the American colonies. France was eager to help the recently proclaimed United States and ready to shift the balance of power in its favor in Europe, and so was Spain.
Ferreiro details with meticulous precision the vast sums of money in loans (between five and ten billion dollars in today's currency) and ammunition made available by King Louise XVI, the endless drive of the Prussian Baron von Steuben to professionalize the continental army, as well as the Dutch merchants' efforts in providing high-quality gunpowder to the revolutionary forces. 
Key Topics
How did a fight for rights escalate into a war of independence?
Who were the warring parties and why were they at war?
What was the significance of the Declaration of Independence?
Why did France and Spain want to help the the Continental Congress?
How did merchants, sailors, diplomats, and the governments of France and Spain support the American Revolutionary War?
What critical help was provided by Prussia and Poland?
How were India and Brazil instrumental in the United States' fight for independence?
How far and deep did the French contribution go beyond Lafayette and Rochambeau?
Other Books by Author