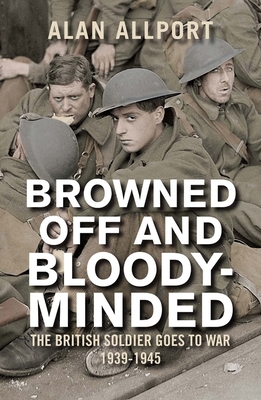 Yale University Press
Browned Off and Bloody-Minded: The British Soldier Goes to War 1939-1945
0

Rate this book

Key Metrics
Yale University Press

Paperback

9780300226386

-

-

History > Military - World War II

English
$0
Available Copies:
0 Copies

Secure Transaction
Book Description
More than three-and-a-half million men served in the British Army during the Second World War, the vast majority of them civilians who had never expected to become soldiers and had little idea what military life, with all its strange rituals, discomforts, and dangers, was going to be like. Alan Allport's rich and luminous social history examines the experience of the greatest and most terrible war in history from the perspective of these ordinary, extraordinary men, who were plucked from their peacetime families and workplaces and sent to fight for King and Country. Allport chronicles the huge diversity of their wartime trajectories, tracing how soldiers responded to and were shaped by their years with the British Army, and how that army, however reluctantly, had to accommodate itself to them. Touching on issues of class, sex, crime, trauma, and national identity, through a colorful multitude of fresh individual perspectives, the book provides an enlightening, deeply moving perspective on how a generation of very modern-minded young men responded to the challenges of a brutal and disorienting conflict.
Browned Off and Bloody-Minded: The British Soldier Goes to War 1939-1945
Author Bio
Alan Allport specializes in the history of Britain in the period of the two world wars. His most recent book, Britain at Bay: The Epic Story of the Second World War 1938-1941 was published by Knopf (North America) and Profile (UK) in 2020. 
Writing in the Wall Street Journal, Professor Paul Kennedy of Yale University said that "Britain at Bay ... might be the single best examination of British politics, society and strategy in these four years that has ever been written." 
It was a Sunday Times (London) history book of the year and a finalist for the 2020 RUSI Duke of Wellington Medal for Military History. Professor Allport's previous two books are Browned Off and Bloody-Minded: The British Soldier Goes to War 1939-1945 which was published by Yale University Press in 2015 and Demobbed: Coming Home After the Second World War, published by Yale in 2009, which won the Longman-History Today Book of the Year Award. 
He is currently writing a sequel to Britain at Bay provisionally titled Advance Britannia: The Epic Story of the Second World War 1942-1945.  Professor Allport is interested in hearing from any potential graduate students interested in studying 20th century Britain and the history of the two world wars.
Source: Syracuse University Maxwell School of Citizenship & Public Affairs 
more