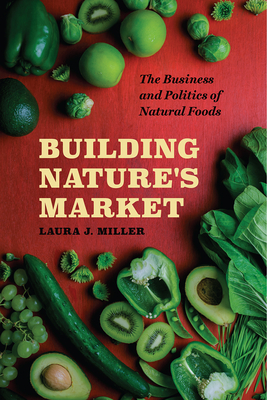 University of Chicago Press
Building Nature's Market: The Business and Politics of Natural Foods
0

Rate this book

Key Metrics
University of Chicago Press

Paperback

9780226501376

8.9 X 5.9 X 0.6 inches

0.88 pounds

Social Science > Sociology - General

English
$0
Available Copies:
0 Copies

Secure Transaction
Book Description
For the first 150 years of their existence, natural foods were consumed primarily by body builders, hippies, religious sects, and believers in nature cure. And those consumers were dismissed by the medical establishment and food producers as kooks, faddists, and dangerous quacks. In the 1980s, broader support for natural foods took hold and the past fifteen years have seen an explosion--everything from healthy-eating superstores to mainstream institutions like hospitals, schools, and workplace cafeterias advertising their fresh-from-the-garden ingredients.
Building Nature's Market shows how the meaning of natural foods was transformed as they changed from a culturally marginal, religiously inspired set of ideas and practices valorizing asceticism to a bohemian lifestyle to a mainstream consumer choice. Laura J. Miller argues that the key to understanding this transformation is to recognize the leadership of the natural foods industry. Rather than a simple tale of cooptation by market forces, Miller contends the participation of business interests encouraged the natural foods movement to be guided by a radical skepticism of established cultural authority. She challenges assumptions that private enterprise is always aligned with social elites, instead arguing that profit-minded entities can make common cause with and even lead citizens in advocating for broad-based social and cultural change.
Building Nature's Market: The Business and Politics of Natural Foods
Author Bio
Laura J. Miller is Professor and Chair of Sociology. She came to Brandeis in 2002, having previously taught at the University of Western Ontario and Vassar College. Professor Miller teaches courses in the sociology of culture, the mass media, food studies, and urban sociology
Her research is centered on understanding the interaction between cultural and economic processes. This interest has led to studies that examine information, media, and lifestyle industries, the contributions of such industries to consumer culture, and the role of commercial institutions in community life and social change. Her latest book, Building Nature's Market: The Business and Politics of Natural Foods, published in Fall 2017, examines the relationship between the health/natural foods industry and natural foods as a social and cultural movement. 
Her 2006 book, Reluctant Capitalists: Bookselling and the Culture of Consumption, was on book marketing and retailing in the twentieth century, with a focus on the growth of large, corporate-owned chain bookstores. 
Miller's current research project examines the publishing history of vegetarian cookbooks in the United States in order to trace changing meanings attached to a vegetarian way of life and the advocacy of vegetarianism.
Education 
University of California, San Diego, Ph.D.
University of California, San Diego, M.A.
University of California, Berkeley, M.S.
University of California, Berkeley, B.A.
Source: Brandeis University 
more