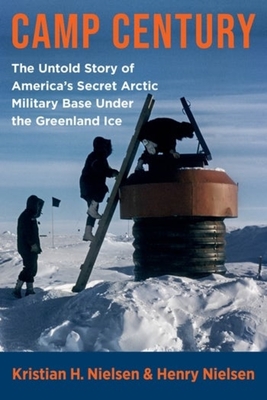 Columbia University Press
Camp Century: The Untold Story of America's Secret Arctic Military Base Under the Greenland Ice
0

Rate this book

Key Metrics
Columbia University Press

Hardcover

9780231201766

-

-

Science > General

English
$0
Estimated Arrival:
May 23 -May 25
Available Copies:
10+ Copies

Secure Transaction
Book Description
At the height of the Cold War, the United States Army secretly began work on a base embedded deep in the Greenland ice cap, Camp Century. Officially defined as a scientific research station, this facility had an undisclosed purpose: to aim up to 600 nuclear warheads, buried in the ice, at the Soviet Union. In 1966, just six years after the camp was established, the United States gave up this provocative strategy and abandoned the base. Despite its brief life, Camp Century has been the cause of controversies from diplomatic relations between the United States and its Arctic allies, Denmark and Greenland, to the risks of radioactive waste abandoned at the site.
This book is the first comprehensive account of the U.S. Army's city under the ice. Beginning with the Truman administration's vision of military superiority in the Arctic and continuing through present-day concerns over the effects of climate change, Kristian H. Nielsen and Henry Nielsen unravel the extraordinary history of this clandestine installation. Drawing on sources including top-secret memos and never-before-seen photographic evidence, they follow the intertwining threads of high-level politics, ice-core research, media representations, daily life beneath the ice, and the specter of long-buried environmental problems that will one day resurface. Camp Century reveals a hidden chapter of Cold War history--and why, as the Greenland ice cap slowly melts, this story is not yet over.
Camp Century: The Untold Story of America's Secret Arctic Military Base Under the Greenland Ice
Author Bio
My research during the last twenty years has mainly been concerned with various aspects of the scientific and technological development in Denmark and Greenland after 1900, resulting in the publication of a number of books and articles and lectures in Denmark and abroad. Since 1996 he has codirected three research projects:
1. In 1996-1998 together with Keld Nielsen, Flemming Petersen, and Hans Siggaard Jensen a project on the history of Risø, the Danish Atomic Energy Research Institution, resulting in the book Til Samfundets tarv - Forskningscenter Risøs historie (Risø 1998) and several articles, see list of publications.
2. In 1998-2001 together with Keld Nielsen a project on the Thirteen Danish Nobel Prize winners, financed by the Danish Ministry of Research and involving 15 historians of science. In 2001 the results were published as a 624-pages book in English Neighbouring Nobel:The History of Thirteen Danish Nobel Prizes (Aarhus 2001) as well as a 570-pages book in Danish Nabo til Nobel: Historien om tretten danske Nobelpriser (Aarhus 2001) plus a number of articles in English as well as in French and in Danish. See list of publications.
3. In 2001-2006 together with Helge Kragh, Peter C. Kjærgaard, and Kristian Hvidtfelt Nielsen a project on the History of Science in Denmark (the DVH-project), financed by the Carlsberg Foundation and involving more then 30 historians of science in Denmark and abroad. The main results of the project were published as a four volume work in Danish: (1) Fra Middelalderlærdom til Den nye Videnskab 1000-1730, (2) Natur, Nytte og Ånd 1730-1850, (3) Lys over Landet 1850-1920, og (4) Viden uden grænser 1920-1970. Together with Kristian Hvidtfelt Nielsen I have edited volume 4 and written a number of articles in connection with the publication. See list of publications.
4. In 2006-2008 together with Helge Kragh, Peter C. Kjærgaard, and Kristian Hvidtfelt Nielsen, I have written a one volume English edition of the above mentioned DVH-books. The title of the English edition is: Science in Denmark: A Thousand-Year History. Published by Aarhus University Press it came out in December 2008.
5. After my retirement in 2007, together with Kristine Harper, Ron Doel, Matthias Heymann, Kristian Hvidtfelt Nielsen and Henrik Knudsen, I have initiated and contributed to the project Exploring Greenland: Science and Technology in a Cold War Setting, which received generous support from the Carlsberg Foundation, and the main results of which have been published in the book Exploring Greenland: Science and Technology on Ice (Palgrave MacMillan 2016). My two most recent books are: Uranbjerget - Om forsøgene på at finde og udnytte Grønlands uran fra 1944 til i dag (Coauthor Henrik Knudsen. Published by Forlaget Vandkunsten, Copenhagen) and Camp Century - Koldkrigsbyen under Grønlands indlandsis (Coauthor Kristian Hvidtfelt Nielsen. Published by Aarhus University Press, Aarhus).  
Source: Aarhus University Centre for Science Studies 
more