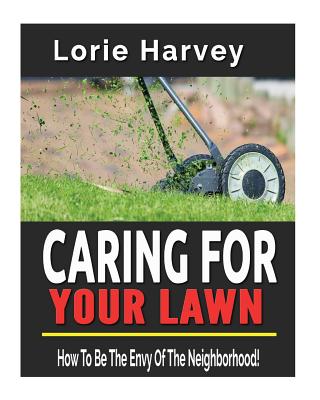 Createspace Independent Publishing Platform
Caring for Your Lawn: How To Be The Envy Of The Neighborhood!
0

Rate this book

Key Metrics
Createspace Independent Publishing Platform

Paperback

9781543083545

10 X 7.99 X 0.27 inches

0.58 pounds

House & Home > Equipment, Appliances & Supplies

English
$0
Available Copies:
0 Copies

Secure Transaction
Book Description
Caring for Your Lawn How to be the envy of the neighborhood! It's 9:00 a.m. in suburbia. Just like clockwork, garage doors open and out come the weekend warriors with their weapons at the ready. Like a scene straight out of The Stepford Wives with roles reversed, all the mowers are started at the same time and the trusty steeds fall in line and obey their masters as they methodically crisscross the lawn in precise geometric patterns. Okay, okay so we exaggerated a little. But you must admit, it's a pretty familiar scenario, right? The only thing missing is all of the white knights chatting over the hedge about which mower is the best and how to have the greenest lawn on the block! Well listen up trusty White Knight. You CAN win the battle of Bermuda. . . Bermuda grass that is. If you are serious about winning the weekend trophy of having the best-looking lawn on the block, pay attention. It isn't enough that you know how to mow pretty patterns. And it doesn't matter that you used your firstborn's college fund to install that sprinkler system. A beautiful lawn does not live by pretty patterns and water alone. You need to wise up and smell the fertilizer. Caring for Your Lawn is just what you need. Take a look: -What is a Lawn - That is NOT a trick question. Find out why inside. -Mowing - When to mow, how to mow and how long or short should the grass be. What zones require more frequent mowing and how often? -Equipment - Are you asking a pony to do the job of a draft horse? Size makes a difference. -Watering - Okay, you knew we'd include this, but are you watering conservatively? -Soil - Dirt is dirt, right? Au contraire' learn the differences. -Fertilizing - Dry or wet? That is the question! -Thatching - No, we don't mean a quaint cottage in the U.K. -Types of Grasses - Do you know what sprigs, stolons and plugs are? -Seeding a New Lawn - Did you know that not all grasses are created equal? -Sod Lawns - Better than seeding? Not necessarily. Discover why inside. -Chemicals - Should you use chemicals for greening your lawn? If so which ones and are they good for the environment? -Insects - What are the different kinds of insects that attack lawns? Are the same pests in all planting zones? How to get rid of them. -Controlling Weeds - What kinds of weeds grow in lawns and how to deal with them. What kinds of diseases can infect a lawn and how to control and eliminate them. -Manual Watering vs Automatic Sprinklers - Is one better than the other? -Starting a Lawn Care Business - How to start your own lawn care business. What tools do you need? How to get customers? Is it profitable? Caring for Your Lawn is sure to put you in first place, prime King of the Hill for the best lawn on the block. Learn how to do it right and you'll be the envy of all The Stepford Husbands in the neighborhood! Don't wait. Can't you hear your lawn calling. . .save me. . .save me? Grab your copy now!
Caring for Your Lawn: How To Be The Envy Of The Neighborhood!