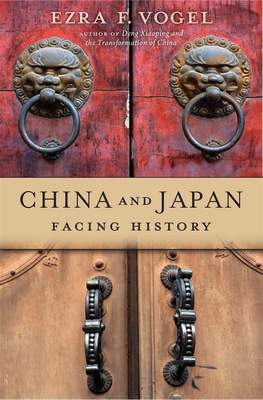 Belknap Press
China and Japan: Facing History
0

Rate this book

Key Metrics
Belknap Press

Hardcover

9780674916579

9.3 X 5.8 X 1.7 inches

2.05 pounds

Political Science > International Relations - General

English
$0
Estimated Arrival:
Dec 7 -Dec 9
Available Copies:
8 Copies

Secure Transaction
Book Description
One of the world's most eminent scholars of East Asia reveals the important touchstones in the long history between China and Japan and argues that for the sake of world stability they must forge a new relationship for the twenty-first century.
China and Japan have cultural and political connections that stretch back fifteen hundred years. But today their relationship is strained. China's military buildup deeply worries Japan, while Japan's brutal occupation of China in World War II remains an open wound. In recent years less than ten percent of each population had positive feelings toward the other, and both countries insist that the other side must deal openly with its history before relations can improve.
From the sixth century, when the Japanese adopted core elements of Chinese civilization, to the late twentieth century, when China looked to Japan for a path to capitalism, Ezra Vogel's China and Japan examines key turning points in Sino-Japanese history. Throughout much of their past, the two countries maintained deep cultural ties, but China, with its great civilization and resources, had the upper hand. Japan's success in modernizing in the nineteenth century and its victory in the 1895 Sino-Japanese War changed the dynamic, putting Japan in the dominant position. The bitter legacy of World War II has made cooperation difficult, despite efforts to promote trade and, more recently, tourism.
Vogel underscores the need for Japan to offer a thorough apology for the war, but he also urges China to recognize Japan as a potential vital partner in the region. He argues that for the sake of a stable world order, these two Asian giants must reset their relationship, starting with their common interests in environmental protection, disaster relief, global economic development, and scientific research.
China and Japan: Facing History
Author Bio
Ezra F. Vogel is the Henry Ford II Professor of the Social Sciences Emeritus at Harvard. After graduating from Ohio Wesleyan in 1950 and serving two years in the U.S. Army, he studied sociology in the Department of Social Relations at Harvard, receiving his Ph.D. in 1958. He then went to Japan for two years to study the Japanese language and conduct research interviews with middle-class families. In 1960-1961 he was assistant professor at Yale University and from 1961-1964 a post-doctoral fellow at Harvard, studying Chinese language and history. He remained at Harvard, becoming lecturer in 1964 and, in 1967, professor. He retired from teaching on June 30, 2000.

Vogel succeeded John Fairbank to become the second Director (1972-1977) of Harvard's East Asian Research Center and Chairman of the Council for East Asian Studies (1977-1980). He was Director of the Program on U.S.-Japan Relations at the Center for International Affairs (1980-1987) and, since 1987, Honorary Director. He was Chairman of the undergraduate concentration in East Asian Studies from its inception in 1972 until 1991. He was Director of the Fairbank Center (1995-1999) and the first Director of the Asia Center (1997-1999). Vogel was Chairman of the Harvard Committee to Welcome President Jiang Zemin (1998). He has also served as Co-director of the Asia Foundation Task Force on East Asian Policy Recommendations for the New Administration (2001).

Drawing on his original field work in Japan, he wrote Japan's New Middle Class (1963). A book based on several years of interviewing and reading materials from China, Canton Under Communism (1969), won the Harvard University Press faculty book of the year award. The Japanese edition of his book Japan as Number One: Lessons for America (1979) is the all-time best-seller in Japan of non-fiction by a Western author. 
In Comeback (1988), he suggested things America might do to respond to the Japanese challenge. He spent eight months in 1987, at the invitation of the Guangdong Provincial Government, studying the economic and social progress of the province since it took the lead in pioneering economic reform in 1978. The results are reported in One Step Ahead in China: Guangdong Under Reform (1989). 
His Reischauer Lectures were published in The Four Little Dragons: The Spread of Industrialization in East Asia (1991). His most recent publication is Is Japan Still Number One? (2000). He has visited East Asia every summer since 1958 and has spent a total of over six years in Asia.
Vogel has received honorary degrees from Kwansei Gakuin (Japan), the Monterrey Institute, the Universities of Maryland, Massachusetts (Lowell), Wittenberg, Bowling Green, Albion, Ohio Wesleyan, Chinese University (Hong Kong) and Yamaguchi University (Japan). He received The Japan Foundation Prize in 1996 and the Japan Society Prize in 1998. He has lectured frequently in Asia, in both Chinese and Japanese.

From fall 1993 to fall 1995, Vogel took a two-year leave of absence from Harvard to serve as the National Intelligence Officer for East Asia at the National Intelligence Council in Washington. He directed the American Assembly on China in November 1996 and the Joint Chinese-American Assembly between China and the United States in 1998.

He is married to Charlotte Ikels, professor of anthropology at Case Western University and has three children – David, Steven, and Eve.
 
Source: Harvard University - 
more
Videos