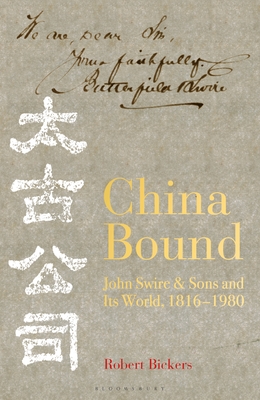 Bloomsbury Business
China Bound: John Swire & Sons and Its World, 1816 - 1980
0

Rate this book

Key Metrics
Bloomsbury Business

Hardcover

9781472949943

9.3 X 6.2 X 2 inches

2.25 pounds

Business & Economics > Corporate & Business History - General

English
$0
Estimated Arrival:
Sep 29 -Oct 3
Available Copies:
1 Copies

Secure Transaction
Book Description
An unrivaled and comprehensive look at the 200-year story of Swire, a highly diversified, global group of companies including Cathay Pacific, with a rich and colorful history.
The Swire Group, started by John Swire in 1816, had its beginnings as a modest Liverpool import-export company, focused mainly on the textile trade. John Swire's sons, John Samuel (1825-1898) and William Hudson (1830-1884), took the firm overseas and it was John Samuel Swire in particular whose entrepreneurial instincts would be at the root of the firm's successes in years to come.
In 1861, John Swire & Sons Limited began to trade with China. In 1866, in partnership with R.S. Butterfield, the firm of Butterfield & Swire was established in Shanghai. Four years later, a branch of Butterfield & Swire was opened in Hong Kong.
In 1953, four years after the establishment of the People's Republic of China, Butterfield & Swire closed all of its China offices. In 1974, Butterfield & Swire in Hong Kong was renamed John Swire & Sons (H.K.) Ltd. Today, Swire is a highly diversified group of companies--covering shipping, airlines (including Cathay Pacific), luxury hotels and agribusiness--and continues to operate out of Hong Kong, with a formal group HQ in London.
This new book provides a detailed and intimate history of the company, researched and written by Robert Bickers, a Professor of History at the University of Bristol.
China Bound: John Swire & Sons and Its World, 1816 - 1980
Author Bio
Specialises in the history of colonialism, and in particular of the British empire and its relations with China and the history of Shanghai (1843-1950s), and modern Chinese history. 
My most recent book is China Bound: John Swire & Sons and its World, a history of the British company John Swire & Sons in the context of, and as a case study in, nineteenth and century globalization as experienced by and shaped by some of the actors involved. 
My previous book, Out of China: How the Chinese ended the era of Western Domination (Allen Lane, and Harvard University Press, 2017), was shortlisted for the 2018 Wolfson Prize for History. This is available as a Penguin Books paperback in the UK. I am interested, too, in experimenting with how we tell such histories, and in thinking about what stories we tell, and have been collaborating with colleagues in a 'Creative Histories' initiative. For more on which see our new article in History Workshop Journal.
My earlier work includes Britain in China (1999), and three books published by Allen Lane/Penguin: Empire Made Me: An Englishman adrift in Shanghai (2003), The Scramble for China: Foreign Devils in the Qing Empire, 1832-1914 (2011) and Getting Stuck in for Shanghai: Putting the Kibosh on the Kaiser from the Bund (Penguin, 2014). My interest in the world of British colonialism more broadly underpins a volume in the Oxford History of the British Empire companion series that I edited on British communities across the worlds of formal and informal empire. 
I am also interested in cemeteries and photographs (and the lives they live), clipper ships, lighthouses and meteorology in China, giants and circuses. Other recent books include a volume co-edited with Jonathan J. Howlett, University of York: Britain and China, 1840-1970: Empire, Finance, and War, and with Isabella Jackson, Trinity College Dublin: Treaty Ports in Modern China: Law, Land & Power.
I direct the Hong Kong Kong History Project, and the Historical Photographs of China digitisation initiative. I also formely ran an AHRC-funded project on the history of the Chinese Maritime Customs Service, was  Director and Co-Director of the British Inter-university China Centre, a Co-Director of the AHRC-funded REACT Knowledge Exchange Hub, and led an ESRC-funded project, 'Colonialism in comparative perspective: Tianjin under nine flags' (2008-11).
more
Videos