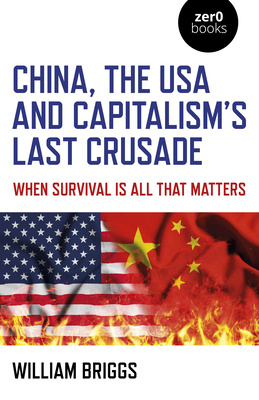 Zero Books
China, the USA and Capitalism's Last Crusade: When Survival Is All That Matters
0

Rate this book

Key Metrics
Zero Books

Paperback

9781789047677

-

-

Political Science > Comparative Politics

English
$0
Available Copies:
0 Copies

Secure Transaction
Book Description
As the sun rises on China and sets on America, the world holds its breath. China, the USA and Capitalism's Last Crusade looks at the rise of China and the decline of the USA but from a different angle. William Briggs argues that this struggle for economic supremacy is being played out against a much bigger backdrop; the decline of the economic structure of capitalism. In this sense, the decline of the USA is portrayed as that larger economic decline in microcosm. Briggs examines the relationship between state and capital, of how capitalism came to dominate the world, and of the historical, political and economic rise of both the USA and China. He shows that the struggle between the two nations has little to do with cultural, historical, demographic, political or ideological differences, but with what they have in common. Despite the portrayal of China as being 'socialist' it functions as a capitalist economy in the globalised capitalist world. While its journey to capitalism may have differed, the end point is the same and this is why there is such animosity, such conflict, such acrimony between the two states.
China, the USA and Capitalism's Last Crusade: When Survival Is All That Matters
Author Bio
Dr William Briggs is a political economist affiliated to Deakin University whose special areas of interest lies in Marxist political theory. He writes for Pearls and Irritations on International Politics. 
His latest book, China, the USA, and Capitalism's Last Crusade, is due for publication in early 2021 with Zero Books. He is the author of Classical Marxism in an Age of Capitalist Crisis, Removing the Stalin Stain, and A Cauldron of Anxiety: Capitalism in the Twenty-First Century. 
Source: Deakin University 
more