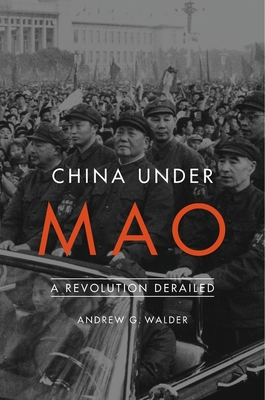 Harvard University Press
China Under Mao: A Revolution Derailed
0

Rate this book

Key Metrics
Harvard University Press

Paperback

9780674975491

9.2 X 6.1 X 1.3 inches

1.05 pounds

History > Asia - China

English
$0
Available Copies:
0 Copies

Secure Transaction
Book Description
China's Communist Party seized power in 1949 after a long period of guerrilla insurgency followed by full-scale war, but the Chinese revolution was just beginning. China Under Mao narrates the rise and fall of the Maoist revolutionary state from 1949 to 1976--an epoch of startling accomplishments and disastrous failures, steered by many forces but dominated above all by Mao Zedong.
Walder convincingly shows that the effect of Maoist inequalities still distorts China today...[It] will be a mind-opening book for many (and is a depressing reminder for others).
--Jonathan Mirsky, The Spectator
Andrew Walder's account of Mao's time in power is detailed, sophisticated and powerful...Walder takes on many pieces of conventional wisdom about Mao's China and pulls them apart...What was it that led so much of China's population to follow Mao's orders, in effect to launch a civil war against his own party? There is still much more to understand about the bond between Mao and the wider population. As we try to understand that bond, there will be few better guides than Andrew Walder's book. Sober, measured, meticulous in every deadly detail, it is an essential assessment of one of the world's most important revolutions.
--Rana Mitter, Times Literary Supplement
China Under Mao: A Revolution Derailed
Author Bio
Andrew G. Walder is the Denise O'Leary and Kent Thiry Professor in the School of Humanities and Sciences, and Senior Fellow in the Freeman Spogli Institute for International Studies. Previously, he served as chair of the Department of Sociology, as director of the Walter H. Shorenstein Asia-Pacific Research Center, and as Director of the Division of International, Comparative and Area Studies in the School of Humanities and Sciences.
A political sociologist, Walder has long specialized on the sources of conflict, stability, and change in communist regimes and their successor states. His publications on China have ranged from the political and economic organization of the Mao era to changing patterns of stratification, social mobility, and political conflict in the post-Mao era. 
Another focus of his research has been on the political economy of Soviet-type economies and their subsequent reform and restructuring. His current research focuses on popular political mobilization in late-1960s China and the subsequent collapse and rebuilding of the Chinese party-state.
Walder joined the Stanford faculty the fall of 1997. He received his PhD in sociology at the University of Michigan in 1981 and taught at Columbia University before moving to Harvard in 1987. As a professor of sociology, he served as chair of Harvard's MA Program on Regional Studies-East Asia for several years. 
From 1995 to 1997, he headed the Division of Social Sciences at the Hong Kong University of Science and Technology. From 1996 to 2006, as a member of the Hong Kong Government's Research Grants Council, he chaired its Panel on the Humanities, Social Sciences, and Business Studies.
His recent publications include Agents of Disorder: Inside China's Cultural Revolution(Harvard University Press, 2019); "The Impact of Class Labels on Life Chances in China" (with Donald J. Treiman), American Journal of Sociology(2019); "The Dynamics of Collapse in an Authoritarian Regime: China in 1967" (with Qinglian Lu) American Journal of Sociology(2017); China Under Mao: A Revolution Derailed (Harvard University Press, 2015); "After State Socialism: The Political Origins of Transitional Recessions" (with Andrew Isaacson and Qinglian Lu), American Sociological Review(2015); "Rebellion and Repression in China, 1966-1971," Social Science History(2014); Fractured Rebellion: The Beijing Red Guard Movement (Harvard University Press, 2009); "Revolution, Reform, and Status Inheritance: Urban China, 1949-1996" (with Songhua Hu), American Journal of Sociology (2009); "Ownership, Organization, and Income Inequality: Market Transition in Rural Vietnam" (with Giang Hoang Nguyen) American Sociological Review (2008); "Ambiguity and Choice in Political Movements: The Origins of Beijing Red Guard Factionalism," American Journal of Sociology (2006); and "Political Sociology and Social Movements," in Annual Review of Sociology (2009).
Source: Stanford University School of Humanities and Sciences 
more