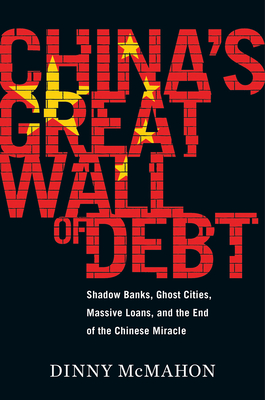 Houghton Mifflin
China's Great Wall of Debt: Shadow Banks, Ghost Cities, Massive Loans, and the End of the Chinese Miracle
0

Rate this book

Key Metrics
Houghton Mifflin

Hardcover

9781328846013

9.1 X 6 X 1.3 inches

0.95 pounds

Political Science > World - Asian

English
$0
Available Copies:
0 Copies

Secure Transaction
Book Description
A stunning inside look at how and why the foundations upon which China has built the world's second largest economy, have started to crumble.
Over the course of a decade spent reporting on the ground in China as a financial journalist, Dinny McMahon gradually came to the conclusion that the widely held belief in China's inevitable economic ascent is dangerously wrong.
In this unprecedented deep dive, McMahon shows how, lurking behind the illusion of prosperity, China's economic growth has been built on a staggering mountain of debt. While stories of newly built but empty cities, white elephant state projects, and a byzantine shadow banking system, have all become a regular fixture in the press in recent years, McMahon goes beyond the headlines to explain how such waste has been allowed to flourish, and why one of the most powerful governments in the world has been at a loss to stop it.
Through the stories of ordinary Chinese citizens, McMahon tries to make sense of the unique--and often bizarre--mechanics of the Chinese economy, whether it be the state's addiction to appropriating land from poor farmers; or why a Chinese entrepreneur decided it was cheaper to move his yarn factory to South Carolina; or why ambitious Chinese mayors build ghost cities; or why the Chinese bureaucracy was able to stare down Beijing's attempts to break up the state's pointless monopoly over the distribution of table salt.
Debt, entrenched vested interests, a frenzy of speculation, and an aging population are all pushing China toward an economic reckoning. China's Great Wall of Debt unravels an incredibly complex and opaque economy, one whose fortunes--for better or worse--will shape the globe like never before.
China's Great Wall of Debt: Shadow Banks, Ghost Cities, Massive Loans, and the End of the Chinese Miracle
Author Bio
I help institutional investors better understand the black box that is China's financial system.
China's financial system is at a pivotal moment. Beijing is attempting to clean up the waste and excess that has been allowed to accrue for the past decade, without exacerbating the risks. However, few people have the background, experience, and expertise to truly delve into what's going on--and explain why it matters.
I've spent 15 years building a deep understanding of the idiosyncrasies of China's system. I've had 10 years of on-the-ground experience working as a financial journalist in Beijing and Shanghai, augmented by more technical grounding during the time I've spent at U.S.-based think tanks.
I am also the author of 'China's Great Wall of Debt: Shadow Banks, Ghost Cities, Massive Loans, and the End of the Chinese Miracle,' which was published by Houghton Mifflin Harcourt in 2018. The book explains the mechanics of China's political economy, and why the financial system operates the way it does. WSJ said the following about it:
"[This] book will be an indispensable explainer in the event of a downturn and a useful guide to understanding China's economy in the meantime."
These days, I produce unique insights into what's going on inside if China's financial system for clients that include a major investment bank, a distressed debt investment fund, and macro research companies. My research focuses on areas central to the stability and sustainability of the system, such as:
° Nonperforming loan recognition and disposal
° Bank recapitalization
° The PBOC's liquidity management efforts
° Local government debt
° Credit allocation
° Shadow banking
I also speak globally on issues relating to China's economy and financial system. If you'd like to hire me to speak, or are interested in my research, please feel free to contact me.
Source: dinnymcmahon.com and Linked In 
more