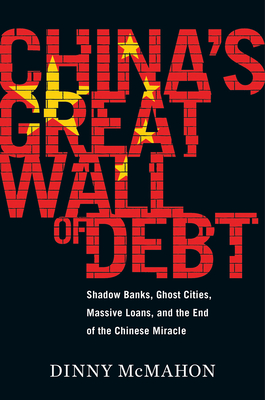 China's Great Wall of Debt:Shadow Banks, Ghost Cities, Massive Loans, and the End of the Chinese Miracle
Interview with Dinny McMahon
October 24, 2021
Sign Up to listen to full interview.
About Dinny McMahon
I help institutional investors better understand the black box that is China's financial system.
China's financial system is at a pivotal moment. Beijing is attempting to clean up the waste and excess that has been allowed to accrue for the past decade, without exacerbating the risks. However, few people have the background, experience, and expertise to truly delve into what's going on--and explain why it matters.
I've spent 15 years building a deep understanding of the idiosyncrasies of China's system. I've had 10 years of on-the-ground experience working as a financial journalist in Beijing and Shanghai, augmented by more technical grounding during the time I've spent at U.S.-based think tanks.
I am also the author of 'China's Great Wall of Debt: Shadow Banks, Ghost Cities, Massive Loans, and the End of the Chinese Miracle,' which was published by Houghton Mifflin Harcourt in 2018. The book explains the mechanics of China's political economy, and why the financial system operates the way it does. WSJ said the following about it:
"[This] book will be an indispensable explainer in the event of a downturn and a useful guide to understanding China's economy in the meantime."
These days, I produce unique insights into what's going on inside if China's financial system for clients that include a major investment bank, a distressed debt investment fund, and macro research companies. My research focuses on areas central to the stability and sustainability of the system, such as:
° Nonperforming loan recognition and disposal
° Bank recapitalization
° The PBOC's liquidity management efforts
° Local government debt
° Credit allocation
° Shadow banking
I also speak globally on issues relating to China's economy and financial system. If you'd like to hire me to speak, or are interested in my research, please feel free to contact me.
Source: dinnymcmahon.com and Linked In 
more
Interview Summary
The four-decade long and rapid rise of China has been nothing but a miracle, increasingly viewed as an alternative model of economic growth and development. 
Once the communist nation was struggling to feed its population, lacked basic manufacturing capabilities and was hardly seen as a rival for the superpower status. However, only in the course of a few decades China has not only moved millions of people from farms to factories and come to dominate several industries on a global scale, but has also emerged as a leading foreign investment source.

Although analysts, commentators and politicians have been forecasting the China crisis for more than 20 years, none of these prognoses have been realized.

To the outside world, China has come to be seen as financially sound, technologically advanced, and led by competent and determined leaders. It is this myth that the Chinese leaders want to perpetrate and use it to project its power around the world. Leaders of nations and corporations around the world are driven by the fear of missing out and worries of the political price to pay in future based on a simple premise that China's rise as a global power is inevitable.
 
That belief is built on a great track record of economic growth and development.

Experience shows that when a country accumulates too much debt relative to the size of its economy too quickly, a crisis typically follows. In fact, China's debt accumulation could be among the fastest in modern history. According to the People's Bank of China, since 2008, the Chinese economy has added about $12 trillion worth of debt, roughly the size of the entire U.S. banking system in that year.
In his book China's Great Wall of Debt, journalist and author Dinny McMahon offers a detailed view of how China's economy works and how people and businesses are forced to work with the restless hand of the regulators and political leaders.  
In an easy-to-read, understandable manner, McMahon provides insights into how banks are required to support the local or state government mandates and targets, often using unilateral land transfers for infrastructure projects that have in turn displaced millions of farmers. 
How Chinese leaders navigate the economic slowdown, slower job creation, rising property defaults, and growing farmer protests will determine the survival of the government and the fate of the communist party. 
While China's rise has altered global economic flows of capital and goods, the country's fall has the potential to rearrange the global economic order once again. 
Key Topics
1. Why could China's fall be more significant than its rise?
2. How does China's economy work and why is it ill-positioned to save itself?
3. Since when has debt become the core driver of Chinese growth?
4. Why do state and local governments borrow so much, why do the country's central bankers, and political leaders permit this? 
5. How is China's economy distorted by state capitalism and crony capitalism?
6. How is China's unreliable economic data creating problems at all levels of the economy?
7. How many Chinese companies have been delisted from the U.S. stock exchanges?
8. How does China function as a one-party state – how do executive, legislative, and judicial branches interact?
9. Why is the visible hand of China's economy called the restless hand?
10. How does the local governments' focus on fast economic growth and rapid tax collection contribute to massive debt build up and waste?
11. Why are local governments constantly looking for loopholes for generating growth and maximizing income?
 
Other Books by Author