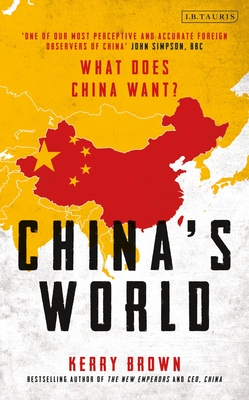 I. B. Tauris & Company
China's World: The Foreign Policy of the World's Newest Superpower
0

Rate this book

Key Metrics
I. B. Tauris & Company

Paperback

9780755636129

-

-

Business & Economics > International - Economics & Trade

English
$0
Available Copies:
0 Copies

Secure Transaction
Book Description
In the next decade China's actions on the world stage will affect us all. A new superpower, with the largest population and GDP on the globe, there are now fears that China is becoming more assertive. Here, award-winning China expert Kerry Brown guides us through China's foreign policy, from its skirmishes with US Navy destroyers in the South China Sea to its arguments with Japan over the Senkaku/Diaoyu Islands and its increased displays of military prowess - including huge investments in cyber warfare. Brown also assesses China's extraordinary plan to create a `New Silk Road' across Central Asia - one of the biggest infrastructure project in modern history. In doing so he seeks to answer a simple question: what does China want?
The answer lies in the unique way China thinks about the world. A comprehensive analysis by one of the world's most recognised and respected authorities, and based upon unparalleled research into Chinese leaders, their beliefs and their instincts, China's World is an essential read for the Western world.
China's World: The Foreign Policy of the World's Newest Superpower
Author Bio
Kerry Brown is Professor of Chinese Studies and Director of the Lau China Institute at King's College, London. He is an Associate of the Asia Pacific Program at Chatham House, London, an adjunct of the Australia New Zealand School of Government in Melbourne, and the co-editor of the Journal of Current Chinese Affairs, run from the German Institute for Global Affairs in Hamburg. He is President-Elect of the Kent Archaeological Society and an Affiliate of the Mongolia and Inner Asia Studies Unit at Cambridge University.
From 2012 to 2015 he was Professor of Chinese Politics and Director of the China Studies Centre at the University of Sydney, Australia. Prior to this he worked at Chatham House from 2006 to 2012, as Senior Fellow and then Head of the Asia Programme. From 1998 to 2005 he worked at the British Foreign and Commonwealth Office, as First Secretary at the British Embassy in Beijing, and then as Head of the Indonesia, Philippine and East Timor Section. He lived in the Inner Mongolia region of China from 1994 to 1996.
He has a Master of Arts from Cambridge University, a Post Graduate Diploma in Mandarin Chinese (Distinction) from Thames Valley University, London, and a PhD in Chinese politics and language from Leeds University. Professor Brown directed the Europe China Research and Advice Network (ECRAN) giving policy advice to the European External Action Service between 2011 and 2014. He is the author of almost 20 books on modern Chinese politics, and has written for every major international news outlet, and been interviewed by every major news channel on issues relating to contemporary China.
Source: King's College London 
more