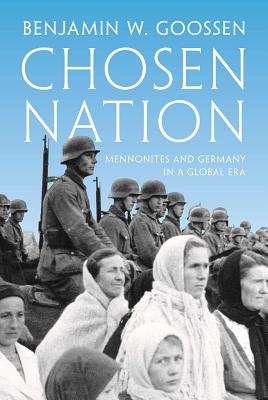 Princeton University Press
Chosen Nation: Mennonites and Germany in a Global Era
0

Rate this book

Key Metrics
Princeton University Press

Paperback

9780691192741

9.21 X 6.14 X 0.64 inches

0.97 pounds

History > Europe - Germany

English
$0
Estimated Arrival:
Aug 11 -Aug 15
Available Copies:
10+ Copies

Secure Transaction
Book Description
During the nineteenth and twentieth centuries, the global Mennonite church developed an uneasy relationship with Germany. Despite the religion's origins in the Swiss and Dutch Reformation, as well as its longstanding pacifism, tens of thousands of members embraced militarist German nationalism. Chosen Nation is a sweeping history of this encounter and the debates it sparked among parliaments, dictatorships, and congregations across Eurasia and the Americas.
Offering a multifaceted perspective on nationalism's emergence in Europe and around the world, Benjamin Goossen demonstrates how Mennonites' nationalization reflected and reshaped their faith convictions. While some church leaders modified German identity along Mennonite lines, others appropriated nationalism wholesale, advocating a specifically Mennonite version of nationhood. Examining sources from Poland to Paraguay, Goossen shows how patriotic loyalties rose and fell with religious affiliation. Individuals might claim to be German at one moment but Mennonite the next. Some external parties encouraged separatism, as when the Weimar Republic helped establish an autonomous Mennonite State in Latin America. Still others treated Mennonites as quintessentially German; under Hitler's Third Reich, entire colonies benefited from racial warfare and genocide in Nazi-occupied Ukraine. Whether choosing Germany as a national homeland or identifying as a chosen people, called and elected by God, Mennonites committed to collective action in ways that were intricate, fluid, and always surprising.
The first book to place Christianity and diaspora at the heart of nationality studies, Chosen Nation illuminates the rising religious nationalism of our own age.
Chosen Nation: Mennonites and Germany in a Global Era
Author Bio
I am a historian of the US and Europe in the World, specializing in histories of science, statecraft, and the global environment. My research examines how human communities have thought and acted on planetary scales since the nineteenth century, including as mediated by race, gender, religion, and class. While much of my scholarship concerns modern Europe and North America, with a particular interest in Germany, the US, and the USSR, I conceive of these places broadly and seek to contextualize them in worldwide frames and the history of the longue durée. 
My methodology entails following unexpected questions across geographical borders and disciplinary boundaries, a practice that has taken me to more than one hundred archives and special collections libraries in twenty countries.
My current book project, "The Year of the Earth (1957-1958): Cold War Science and the Making of Planetary Consciousness," offers the first global history of the International Geophysical Year, an intensive period of worldwide scientific collaboration in which tens of thousands of scientists working across every continent and ocean collected data to study planet Earth as a dynamic environmental system. 
This book manuscript draws on sources in a dozen languages collected from archives on six continents. Situating the rise of environmental research in the context of Cold War superpower hegemony and postcolonial globalization, my project shows how Earth science has counterintuitively spurred social inequality and ecological collapse since the end of the Second World War while at the same time helping to construct notions of our planet as a peaceful and universalist space. I published an article about these themes with the Journal of Global History in 2020.
My first book, Chosen Nation: Mennonites and Germany in a Global Era, appeared with Princeton University Press in 2017. This book tells the surprising story of a predominantly rural and historically pacifist religious community that developed a broad fascist constituency across three continents in concert with rising transnational sensibilities. Chosen Nation offers a multifaceted perspective on nationalism's emergence across Europe and the world, and it is the first book to place Christianity and diaspora at the heart of nationality studies. 
Drawing on sources from Poland to Paraguay, this project inspired my passion for multi-continental archival research, and it prompted me to turn the tools of global and transnational history to the study of environmental science and planetary thought. I remain invested in the themes of Chosen Nation, having published over a dozen related articles and chapters. My two latest contributions appeared in 2021 with German Studies Review and Antisemitism Studies.
Numerous institutions have supported my research, including the American Historical Association, the Fulbright Commission, the German Academic Exchange Service (DAAD), and the National Aeronautics and Space Administration (NASA). 
I have held fellowships at Albert-Ludwigs-Universität Freiburg, the European University Institute, Freie Universität Berlin, the Smithsonian National Air and Space Museum, and the University of Sydney. My teaching and writing have received awards from the Associated Church Press, the Canadian Church Press, Harvard University, the Kansas Historical Foundation, the Society for Historians of American Foreign Relations, and Swarthmore College.
Source: Harvard University 
more