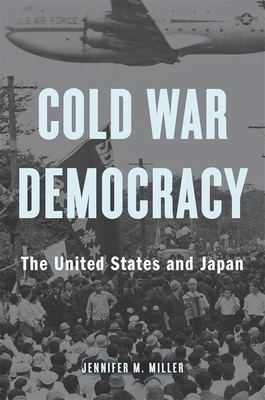 Harvard University Press
Cold War Democracy: The United States and Japan
0

Rate this book

Key Metrics
Harvard University Press

Hardcover

9780674976344

9.4 X 6.2 X 1.4 inches

1.55 pounds

History > United States - 20th Century

English
$0
Available Copies:
0 Copies

Secure Transaction
Book Description
A fresh reappraisal of Japan's relationship with the United States, which reveals how the Cold War shaped Japan and transformed America's understanding of what it takes to establish a postwar democracy.
Is American foreign policy a reflection of a desire to promote democracy, or is it motivated by America's economic interests and imperial dreams? Jennifer Miller argues that democratic ideals were indeed crucial in the early days of the U.S.-Japanese relationship, but not in the way most defenders claim. American leaders believed that building a peaceful, stable, and democratic Japan after a devastating war required much more than elections or a new constitution. Instead, they saw democracy as a psychological and even spiritual state of mind, a vigilant society perpetually mobilized against the false promises of fascist and communist anti-democratic forces. These ideas inspired an unprecedented crusade to help the Japanese achieve the individualistic and rational qualities deemed necessary for democracy.
These American ambitions confronted vigorous Japanese resistance. Activists mobilized against U.S. policy, surrounding U.S. military bases and staging protests to argue that a true democracy must be accountable to the Japanese people. In the face of these protests, leaders from both the United States and Japan maintained their commitment to building a psychologically healthy democracy. During the occupation, American policymakers identified elections and education as the wellsprings of a new consciousness, but as the extent of Japan's remarkable economic recovery became clear, they increasingly placed prosperity at the core of a revised vision for their new ally's future. Cold War Democracy reveals how these ideas and conflicts informed American policies, including the decision to rebuild the Japanese military and distribute U.S. economic assistance and development throughout Asia.
Cold War Democracy: The United States and Japan
Author Bio
I am an assistant professor of history at Dartmouth College and a historian of the United States and the World, with a focus on the United States and the Asia-Pacific.  My research examines the intersections between foreign policy and domestic ideas, ideologies, and political narratives. It explores how new interactions between America and East Asia after World War II transformed both American and Asian thinking about security, democratic order, citizenship, and economic growth.
My first book, entitled Cold War Democracy: The United States and Japan (Cambridge, MA: Harvard University Press, 2019), draws from American and Japanese archives to examine how democratic thinking and ideologies changed during World War II and the early Cold War.  It explores how different visions of democracy, both American and Japanese, shaped the U.S.-Japanese relationship. Choice named Cold War Democracy an Outstanding Academic Title for 2019.
I also write about the contemporary relevance of the U.S.-Japanese relationship for American understandings of capitalism, globalization, international power, and hegemony. My most recent article explores neoconservative thinking about East Asian growth, the importance of tradition, and the nature of capitalism in the 1970s and 1980s. I have also written about the ways in which Japan's economic rise in the 1970s and 1980s shaped President Donald Trump's approach to international trade and globalization. This article was featured in the New York Times and the Washington Post.
At Dartmouth, I teach the introductory class on U.S. history, along with classes on the history of U.S. foreign relations, the Cold War, and the Asia-Pacific Wars of 1931 – 1945.
Education
Ph.D. University of Wisconsin-Madison
M.A. University of Wisconsin-Madison
B.A. Wesleyan University
Source: jennifermmiller.com and Dartmouth College
more