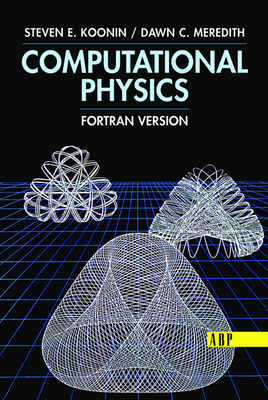 CRC Press
Computational Physics: FORTRAN Version
0

Rate this book

Key Metrics
CRC Press

Hardcover

9780367091231

-

-

Science > Physics - Mathematical & Computational

English
$0
Available Copies:
0 Copies

Secure Transaction
Book Description
Computational Physics is designed to provide direct experience in the computer modeling of physical systems. Its scope includes the essential numerical techniques needed to do physics on a computer. Each of these is developed heuristically in the text, with the aid of simple mathematical illustrations. However, the real value of the book is in the eight Examples and Projects, where the reader is guided in applying these techniques to substantial problems in classical, quantum, or statistical mechanics. These problems have been chosen to enrich the standard physics curriculum at the advanced undergraduate or beginning graduate level. The book will also be useful to physicists, engineers, and chemists interested in computer modeling and numerical techniques. Although the user-friendly and fully documented programs are written in FORTRAN, a casual familiarity with any other high-level language, such as BASIC, PASCAL, or C, is sufficient. The codes in BASIC and FORTRAN are available on the web at http: //www.computationalphysics.info (Please follow the link at the bottom of the page). They are available in zip format, which can be expanded on UNIX, Window, and Mac systems with the proper software. The codes are suitable for use (with minor changes) on any machine with a FORTRAN-77 compatible compiler or BASIC compiler. The FORTRAN graphics codes are available as well. However, as they were originally written to run on the VAX, major modifications must be made to make them run on other machines
Computational Physics: FORTRAN Version
Author Bio
Steven Koonin joined New York University Stern School of Business as a Professor of Information, Operations and Management Sciences in September 2012. He is also Director of NYU's new Center for Urban Science and Progress (CUSP).
Professor Koonin was confirmed by the Senate in May 2009 as Undersecretary for Science at the U.S. Department of Energy, serving in that position until November, 2011. Prior to joining the Obama Administration, he was BP's Chief Scientist, where he was a strong advocate for research into renewable energies and alternate fuel sources. 
He came to BP in 2004 after almost three decades as Professor of Theoretical Physics at the California Institute of Technology, serving as the Institute's Vice President and Provost for the last nine years. He most recently held a position at the Science and Technology Policy Institute of the Institute for Defense Analyses in Washington, DC.
Professor Koonin is the recipient of numerous awards and honors, including the George Green Prize for Creative Scholarship at Caltech, a National Science Foundation Graduate Fellowship, an Alfred P. Sloan Foundation Fellowship, a Senior U.S. Scientist Award (Humboldt Prize) and the Department of Energy's Ernest Orlando Lawrence Award. 
He is a Fellow of several professional societies, including the American Physical Society, the American Association of the Advancement of Sciences, and the American Academy of Arts and Sciences, and a member of the Council on Foreign Relations and the U.S. National Academy of Sciences.
Professor Koonin received his B.S. in Physics from the California Institute of Technology in 1972 and his Ph.D. in Theoretical Physics from MIT in 1975.
Source: New York University Center for Urban Science and Progress 
more