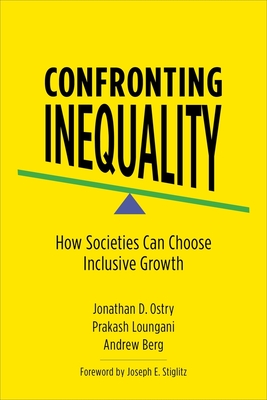 Columbia University Press
Confronting Inequality: How Societies Can Choose Inclusive Growth
0

Rate this book

Key Metrics
Columbia University Press

Paperback

9780231174695

8.9 X 6 X 0.8 inches

0.65 pounds

Business & Economics > Money & Monetary Policy

English
$0
Estimated Arrival:
Jun 6 -Jun 8
Available Copies:
10+ Copies

Secure Transaction
Book Description
Inequality has drastically increased in many countries around the globe over the past three decades. The widening gap between the very rich and everyone else is often portrayed as an unexpected outcome or as the tradeoff we must accept to achieve economic growth. In this book, three International Monetary Fund economists show that this increase in inequality has in fact been a political choice--and explain what policies we should choose instead to achieve a more inclusive economy.
Jonathan D. Ostry, Prakash Loungani, and Andrew Berg demonstrate that the extent of inequality depends on the policies governments choose--such as whether to let capital move unhindered across national boundaries, how much austerity to impose, and how much to deregulate markets. While these policies do often confer growth benefits, they have also been responsible for much of the increase in inequality. The book also shows that inequality leads to weaker economic performance and proposes alternative policies capable of delivering more inclusive growth. In addition to improving access to health care and quality education, they call for redistribution from the rich to the poor and present evidence showing that redistribution does not hurt growth. Accessible to scholars across disciplines as well as to students and policy makers, Confronting Inequality is a rigorous and empirically rich book that is crucial for a time when many fear a new Gilded Age.
Confronting Inequality: How Societies Can Choose Inclusive Growth
Author Bio
Jonathan D. Ostry is Deputy Director of the Asia and Pacific Department at the International Monetary Fund and a Research Fellow at the Center for Economic Policy Research (CEPR). His recent responsibilities include leading staff teams on: IMF-FSB Early Warning Exercises on global systemic macro-financial risks; vulnerabilities exercises for advanced and emerging market countries; multilateral exchange rate surveillance, including the work of CGER, the Fund's Consultative Group  Exchange Rates, and EBA, the External Balance Assessment; international financial architecture and reform of the IMF's lending toolkit; capital account management (capital controls and prudential tools to manage capital inflows) and financial globalization issues; fiscal sustainability issues; and the nexus between income inequality and economic growth. 
Past positions include leading the division that produces the IMF's flagship multilateral surveillance publication, the World Economic Outlook, and leading country teams on Australia, Japan, New Zealand, and Singapore. Mr. Ostry is the author of a number of books on international macro policy issues and numerous articles in scholarly journals. 
His most recent books include Taming the Tide of Capital Flows (MIT Press, 2017) and Confronting Inequality (Columbia University Press, 2018). His work has been widely cited in print and electronic media, including the BBC, the Economist, the Financial Times, the Wall Street Journal, the New York Times, the Washington Post, Business Week, and National Public Radio. 
His work on inequality and unsustainable growth has also been cited in remarks made by President Barack Obama. He earned his B.A. (with distinction) from Queen's University (Canada) at age 18, and went on to earn a B.A. and M.A. from Oxford University (Balliol College), and graduate degrees from the London School of Economics (M.Sc., 1984) and the University Chicago (Ph.D., 1988). He is listed in Who's Who in Economics (2003).
Source: International Monetary Fund 
more
Videos