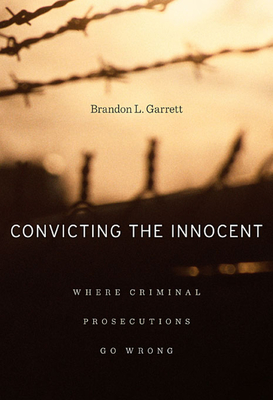 Harvard University Press
Convicting the Innocent: Where Criminal Prosecutions Go Wrong
0

Rate this book

Key Metrics
Harvard University Press

Paperback

9780674066113

9.58 X 6.05 X 0.93 inches

0.95 pounds

Law > Criminal Procedure

English
$0
Available Copies:
0 Copies

Secure Transaction
Book Description
On January 20, 1984, Earl Washington--defended for all of forty minutes by a lawyer who had never tried a death penalty case--was found guilty of rape and murder in the state of Virginia and sentenced to death. After nine years on death row, DNA testing cast doubt on his conviction and saved his life. However, he spent another eight years in prison before more sophisticated DNA technology proved his innocence and convicted the guilty man.
DNA exonerations have shattered confidence in the criminal justice system by exposing how often we have convicted the innocent and let the guilty walk free. In this unsettling in-depth analysis, Brandon Garrett examines what went wrong in the cases of the first 250 wrongfully convicted people to be exonerated by DNA testing.
Based on trial transcripts, Garrett's investigation into the causes of wrongful convictions reveals larger patterns of incompetence, abuse, and error. Evidence corrupted by suggestive eyewitness procedures, coercive interrogations, unsound and unreliable forensics, shoddy investigative practices, cognitive bias, and poor lawyering illustrates the weaknesses built into our current criminal justice system. Garrett proposes practical reforms that rely more on documented, recorded, and audited evidence, and less on fallible human memory.
Very few crimes committed in the United States involve biological evidence that can be tested using DNA. How many unjust convictions are there that we will never discover? Convicting the Innocent makes a powerful case for systemic reforms to improve the accuracy of all criminal cases.
Convicting the Innocent: Where Criminal Prosecutions Go Wrong
Author Bio
Brandon L. Garrett teaches law at the University of Virginia School of Law, where he has been a professor since 2005. His research on our criminal justice system has ranged from the lessons to be learned from cases where innocent people were exonerated by DNA tests, to research on false confessions, forensics, and eyewitness memory, to the difficult compromises that prosecutors reach when targeting the largest corporations in the world.
In 2011, Harvard University Press published Garrett's book, "Convicting the Innocent: Where Criminal Prosecutions Go Wrong," examining the cases of the first 250 people to be exonerated by DNA testing. That book was the subject of a symposium issue in New England Law Review, and received an A.B.A. Silver Gavel Award, Honorable Mention, and a Constitutional Commentary Award. It is has been translated in Japanand Taiwan, and is China. In 2013, Foundation Press published a casebook, "Federal Habeas Corpus: Executive Detention and Post-Conviction Litigation," that co-authored with Lee Kovarsky. Garrett's new book examining corporate prosecutions, titled "Too Big to Jail: How Prosecutors Compromise with Corporations," was published by Harvard University Press in Fall 2014.  It is currently being translated in Taiwan and Spain.  Garrett's law review articles can be downloaded on SSRN.
Garrett's work has been cited by courts, including the U.S. Supreme Court, lower federal courts, state supreme courts, and courts in other countries, such as the Supreme Courts of Canada and Israel. Garrett also frequently speak about criminal justice matters before legislative and policymaking bodies, groups of practicing lawyers, law enforcement, and to local and national media.  He attended Columbia Law School, where he was an articles editor of the Columbia Law Review and a Kent Scholar. After graduating, he clerked for the Hon. Pierre N. Leval of the U.S. Court of Appeals for the Second Circuit. He then worked as an associate at Neufeld, Scheck & Brustin LLP in New York City.
Garrett lives in Charlottesville, Virginia with his wonderful family.  In all of his spare time, he tries to paint.
more