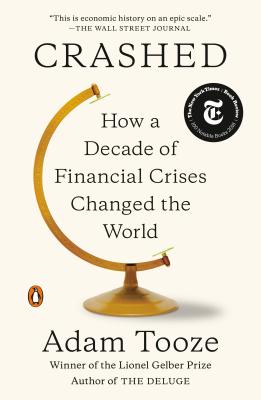 Penguin Books
Crashed: How a Decade of Financial Crises Changed the World
0

Rate this book

Key Metrics
Penguin Books

Paperback

9780143110354

8.4 X 5.3 X 1.6 inches

1.3 pounds

Business & Economics > Economic History

English
$0
Available Copies:
0 Copies

Secure Transaction
Book Description
WINNER OF THE LIONEL GELBER PRIZE
A NEW YORK TIMES NOTABLE BOOK OF 2018
ONE OF THE ECONOMIST'S BOOKS OF THE YEAR
A NEW YORK TIMES CRITICS' TOP BOOK
An intelligent explanation of the mechanisms that produced the crisis and the response to it...One of the great strengths of Tooze's book is to demonstrate the deeply intertwined nature of the European and American financial systems.--The New York Times Book Review
From a prizewinning economic historian, an eye-opening reinterpretation of the 2008 economic crisis (and its ten-year aftermath) as a global event that directly led to the shockwaves being felt around the world today.
We live in a world where dramatic shifts in the domestic and global economy command the headlines, from rollbacks in US banking regulations to tariffs that may ignite international trade wars. But current events have deep roots, and the key to navigating today's roiling policies lies in the events that started it all--the 2008 economic crisis and its aftermath. Despite initial attempts to downplay the crisis as a local incident, what happened on Wall Street beginning in 2008 was, in fact, a dramatic caesura of global significance that spiraled around the world, from the financial markets of the UK and Europe to the factories and dockyards of Asia, the Middle East, and Latin America, forcing a rearrangement of global governance. With a historian's eye for detail, connection, and consequence, Adam Tooze brings the story right up to today's negotiations, actions, and threats--a much-needed perspective on a global catastrophe and its long-term consequences.
Crashed: How a Decade of Financial Crises Changed the World
Author Bio
Professor Adam Tooze teaches and researches widely in the fields of twentieth-century and contemporary history. From a start in modern German history with a special focus on the history of economics and economic history his interests have widened to take in a range of themes in political, intellectual and military history, across a canvass stretching from Europe across the Atlantic. His most recent book was Crashed: How a Decade of Financial Crises Changed the World (2018).
Education

Ph.D. – London School of Economics, 1996
B.A – Economics, King's College Cambridge, 1989
Source: Columbia University Department of History and adamtooze.com
more