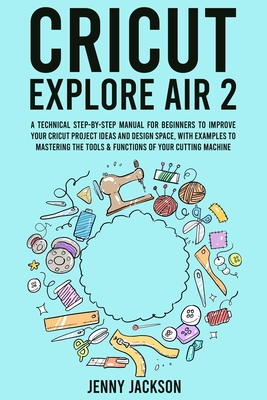 Charlie Creative Lab Ltd Publisher
Cricut Explore Air 2: A Technical Step-by-Step Manual for Beginners to Improve Your Cricut Project Ideas and Design Space, with Examples to Mastering the Tools & Functions of Your Cutting Machine
0

Rate this book

Key Metrics
Charlie Creative Lab Ltd Publisher

Paperback

9781801547079

9.02 X 5.98 X 0.18 inches

0.28 pounds

Crafts & Hobbies > Fashion

English
$0
Available Copies:
0 Copies

Secure Transaction
Book Description
Gain full mastery of your CRICUT EXPLORE AIR 2, with this step by step practical guide!
Has Cricut Machine always fascinated you but have you ever thought it was too complicated to use it?
Are you planning to start your first ever cutting project but don't know how to get started?
Would you like to create beautiful T-shirt designs, stickers, paper art, bracelets, and other DIY cricut projects?
If you answered yes to these questions, then you need to get this book right away!
From TODAY you will have to change your mind; starting a hobby has never been so simple!
With Cricut Explore Air 2, you can bring to life all those cool design ideas you've always dreamt off. The coolest thing is these designs can be made on a wide range of materials: whether cardboard, paper, vinyl, wood, leather, wool and so on. The Explore Air 2 is undoubtedly a crafter's delight.
You can create beautiful gifts for friends and relatives, for Christmas and birthdays, and why not, decorate your own home! But not only ... IF YOU WANT, with a little practice YOU CAN also learn how to make money from whatever design you create. With this guide you will discover some ideas on how to turn the free samples that come with your machines into cash before you invest more money. If you passionately do these designs and become very good at it, you will not only make money. You will continuously put smiles on people's faces.
This book will show you
How to correctly Setup your Machine and How to Prepare the Material
How to use Cricut Design Space software For Cricut Explore Air 2
Materials you can use;
Tools and accessories;
How to Solve the most common problem when using Cricut Explore Air 2
Simple Projects to Execute with Your Cricut Explore Air 2
How to discover Online Marketplaces for Selling Crafts
How to Sell Cricut Crafts & Make Money
FAQs about the Cricut Explore Air 2
Secret Tips for beginners
And much much more!
Cricut explores air 2 cuts rapidly and precisely more than 300 hundred materials, from the most sensitive paper and fabric to the extreme stuff. It handles fabrics, leather, writing, and balsa wood with easy exactness. What is more, puts more innovative prospects than any time in recent memory readily available.
You could spend eternity trying to learn how to use your Cricut Explore Air 2 on your own, or you could get this book to guide you and shorting the long learning curve.
Scroll up and click the buy now button to get a copy now!
Cricut Explore Air 2: A Technical Step-by-Step Manual for Beginners to Improve Your Cricut Project Ideas and Design Space, with Examples to Mastering the Tools & Functions of Your Cutting Machine