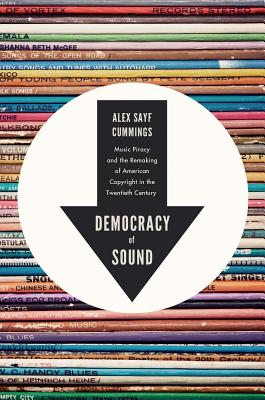 Oxford University Press, USA
Democracy of Sound: Music Piracy and the Remaking of American Copyright in the Twentieth Century
0

Rate this book

Key Metrics
Oxford University Press, USA

Paperback

9780190675110

9.2 X 6.1 X 0.8 inches

0.88 pounds

Music > Recording & Reproduction

English
$0
Estimated Arrival:
Dec 14 -Dec 18
Available Copies:
10+ Copies

Secure Transaction
Book Description
It was a time when music fans copied and traded recordings without permission. An outraged music industry pushed Congress to pass anti-piracy legislation. Yes, that time is now; it was also the era of Napster in the 1990s, of cassette tapes in the 1970s, of reel-to-reel tapes in the 1950s, even the phonograph epoch of the 1930s. Piracy, it turns out, is as old as recorded music itself.
In Democracy of Sound, Alex Sayf Cummings uncovers the little-known history of music piracy and its sweeping effects on the definition of copyright in the United States. When copyright emerged, only visual material such as books and maps were thought to deserve protection; even musical compositions were not included until 1831. Once a performance could be captured on a wax cylinder or vinyl disc, profound questions arose over the meaning of intellectual property. Is only a written composition defined as a piece of art? If a singer performs a different interpretation of a song, is it a new and distinct work? Such questions have only grown more pressing with the rise of sampling and other forms of musical pastiche. Indeed, music has become the prime battleground between piracy and copyright. It is compact, making it easy to copy. And it is highly social, shared or traded through social networks--often networks that arise around music itself. But such networks also pose a counter-argument: as channels for copying and sharing sounds, they were instrumental in nourishing hip-hop and other new forms of music central to American culture today. Piracy is not always a bad thing.
An insightful and often entertaining look at the history of music piracy, Democracy of Sound offers invaluable background to one of the hot-button issues involving creativity and the law.

Democracy of Sound: Music Piracy and the Remaking of American Copyright in the Twentieth Century
Author Bio
Dr. Cummings is a historian of law, technology, and American political culture.  Her work examines how the transition to a postindustrial economy reshaped American culture, public policy, and the built environment from the late nineteenth to the early twenty-first century. She earned a BA in History at the University of North Carolina at Charlotte and PhD in History from Columbia University, studying with Elizabeth Blackmar and Barbara Fields.
Cummings's first book, Democracy of Sound: Music Piracy and the Remaking of American Copyright in the Twentieth Century (Oxford, 2013), traced how intellectual property rights became vastly stronger and broader in scope since the dawn of sound recording in the late nineteenth century, and has been reviewed in publications such as Paste, Blurt, Reason, Pop Matters, and Entertainment Law Review, among others. Her second book, Brain Magnet: Research Triangle Park and the Idea of the Idea Economy (Columbia, 2020), uses the story of North Carolina's Research Triangle to show how Americans envisioned and planned a new information economy since the 1950s; boosters in Raleigh-Durham did so chiefly by mobilizing the intellectual and cultural resources of local universities to attract a privileged new class of knowledge workers—and created the blueprint for a new kind of cognitive capitalism in the process.
Dr. Cummings's work has appeared in Salon, Al Jazeera, The Conversation, the Journal of American History, the Journal of Urban History, and Southern Cultures, among other publications. She is a co-editor of the public history anthology, East of East: The Making of Greater El Monte, published in February 2020 by Rutgers University Press as part of its Latinidad series; a member of the board of directors of the Society for American City and Regional Planning History (SACRPH); and a senior editor of the history blog Tropics of Meta.
Source: Georgia State University 
more