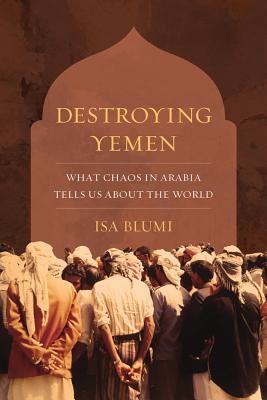 Isa Blumi

University of California Press
Destroying Yemen: What Chaos in Arabia Tells Us about the World
0

Rate this book

Key Metrics
Isa Blumi

University of California Press

Paperback

9780520296145

9 X 5.9 X 0.8 inches

0.95 pounds

Political Science > World - Middle Eastern

English
$0
Estimated Arrival:
Sep 27 -Sep 29
Available Copies:
10+ Copies

Secure Transaction
Book Description
Since March 2015, a Saudi-led international coalition of forces--supported by Britain and the United States--has waged devastating war in Yemen. Largely ignored by the world's media, the resulting humanitarian disaster and full-scale famine threatens millions. Destroying Yemen offers the first in-depth historical account of the transnational origins of this war, placing it in the illuminating context of Yemen's relationship with major powers since the Cold War. Bringing new sources and a deep understanding to bear on Yemen's profound, unwitting implication in international affairs, this explosive book ultimately tells an even larger story of today's political economy of global capitalism, development, and the war on terror as disparate actors intersect in Arabia.
Destroying Yemen: What Chaos in Arabia Tells Us about the World
Author Bio
Isa Blumi is Docent/Associate Professor of Turkish and Middle Eastern Studies at Stockholm University Institute for Turkish Studies within the Department of Asian, Middle Eastern and Turkish Studies. He holds a PhD in History and Middle Eastern/Islamic Studies from New York University and a Master of Political Science and Historical Studies from The New School for Social Research, New York.
Dr. Isa Blumi joined Stockholm University in late 2015 after spending the previous 10 years teaching and researching in universities located in Germany, Belgium, Turkey, the USA, United Arab Emirates, Switzerland, and Albania/Kosovo. While at Stockholm University, he has mentored several graduate students, with two successfully defending their PhDs at the Universities of Geneva and Antwerp while four MA students in Middle Eastern Studies have since moved into PhD programs in Social Anthropology at Stockholm University, Arab History at the American University of Beirut and the University of Georgia-Athens, and Anthropology and Sociology at the Graduate Institute in Geneva.
Research Interests
Isa Blumi researches societies in the throes of social, economic, and political transformation. His latest work covers the late Ottoman period and successor regimes, arguing that these events are part of process that interlinks the Balkans, the Middle East, and the larger Islamic world. In this respect, it is key to explore in a comparative, integrated manner how post-Ottoman Turkey fits into what is a global story of transition.
As he expands his work to include more of the 20th century, Blumi explores processes of change induced by Muslim refugees who ended up settling throughout the world. Current research projects include understanding how Muslims of the former Ottoman Empire navigated the processes by which the Caliphate is ultimately eliminated under European imperial pressure; exploring how subsequent generations of refugees assimilated into their new host environments in the Americas, especially the industrial cities of Detroit, Mexico City, Buenos Aires, and Boston; understanding how Muslims throughout the world contributed to the Cold War with special focus on the interactions between the Lusophone World (in the context of the anti-colonial wars in Mozambique, Angola, Guinea-Bissau, Timor, and Cabo Verde), and communist parties in Portugal, Brazil, Turkey, Syria, Yemen, Albania, and Yugoslavia; and finally how unsettled peoples in the Horn of Africa, Arabia, and the Balkans shaped the policies of managing nature along borders separating competing imperial polities throughout the 19th and 20th centuries.
Exploring these refugees' stories through this global perspective helps question how we understand identity and social organization, themes Blumi will focus on in the courses he will teach. Beyond his historical research, Blumi also regularly writes, and lectures on contemporary Balkan and Middle Eastern politics (especially Kosovo, Turkey and Yemen) and political Islam.
Source: Stockholm University