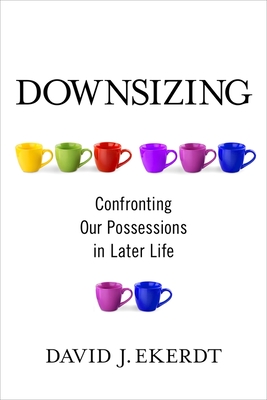 Columbia University Press
Downsizing: Confronting Our Possessions in Later Life
0

Rate this book

Key Metrics
Columbia University Press

Paperback

9780231189811

8.5 X 5.5 X 0.9 inches

0.7 pounds

Self-Help > Aging

English
$0
Estimated Arrival:
Dec 8 -Dec 10
Available Copies:
2 Copies

Secure Transaction
Book Description
As life unfolds, things tend to accumulate. When older adults undergo health, residential, and marital changes, they will face a reckoning with their lifelong store of possessions--special, ordinary, and forgotten. Such a predicament now confronts tens of millions of Americans as the Baby Boom cohort passes into retirement and beyond. Despite what a thriving industry of clutter manuals tells us, for most older adults, downsizing is no simple task.
Drawing on in-depth interviews with recent movers in over a hundred diverse U.S. households, David Ekerdt analyzes the downsizing process and what it says about the meaning and management of possessions. He details how households approach and accomplish downsizing, exploring the decision-making process and the effectiveness of different strategies. From an expert gerontological perspective, he considers the cognitive, physical, emotional, and social tasks that the process entails and the role of factors such as gender and class on the divestment of things. Ekerdt finds that despite the fatigue and emotional challenges people encounter, afterward they report satisfaction in having completed a downsizing and feel empowerment on the other side of the task. Offering an empathetic and practical look at one of life's major transitions, Downsizing brings forward the voices of elders so that older adults, their families and friends, and practitioners working with older clients can understand and benefit from their experience.
Downsizing: Confronting Our Possessions in Later Life
Author Bio
David J. Ekerdt is Professor of Sociology and Gerontology at the University of Kansas.  From 1988-1997 he was Associate Director of the Center on Aging and Associate Professor of Family Medicine at the University of Kansas Medical Center.  He directed the KU Gerontology Center from 2003-2016.  He teaches the sociology of aging and research methods, and he has supervised graduate students on both campuses.
Dr. Ekerdt has three areas of research.  (1) His funded studies of work and retirement have examined the retirement process and its effects on health, well-being, and the marital relationship, as well as behavioral expectations on later life.  (2) He has used interview and survey methods to study the ways that older people manage and dispose of possessions during residential relocation.  Findings from this research appear in the new book, Downsizing: Confronting Our Possessions in Later Life (2020).  (3) He is one of an international team of psychologists and sociologists funded by the Volkswagen Foundation to compare older adults' conceptions of aging, time, and the future in the Czech Republic, Germany, Hong Kong, Taiwan, and the U.S.  

These projects have resulted in 100+ articles, chapters, reviews, editorials, and edited books.  He was Editor-in-Chief of the Macmillan Encyclopedia of Aging, a four-volume, one-million-word work published in 2002, a work with seven specialty editors that covers topics in biology, health care, social and behavioral sciences, humanities, ethics, and social policy.
A graduate of Boston University (Ph.D., 1979), Dr. Ekerdt has also been a member of the faculties of the Harvard School of Dental Medicine and the Boston University School of Public Health.  From 1994 to 1997 he served as editor of the Journal of Gerontology: Social Sciences, and from 1998-2001 was Chair of the Editorial Board for the journal Generations.  From 1997 to 1999 he was member and chair of the Human Development and Aging (HUD-2) study section for grant reviews at the National Institutes of Health.  Dr. Ekerdt is a Fellow of the Gerontological Society of America (GSA), and he has been a member of the Board of Directors of the American Society on Aging.  During 2002-2003 he served as chair of the Aging and Life Course section of the American Sociological Association.  In 2010-2011 he chaired the Behavioral and Social Sciences Section of GSA.
Dr. Ekerdt served as 2018 President of the GSA, the nation's oldest and largest interdisciplinary society for research, education, and practice in the field of aging.  The principal mission of the Society - and its 5,500+ members - is to advance the study of aging and disseminate information among scientists, decision makers, and the general public. Its members come from more than 50 countries.
Source: The University of Kansas 
more
Videos