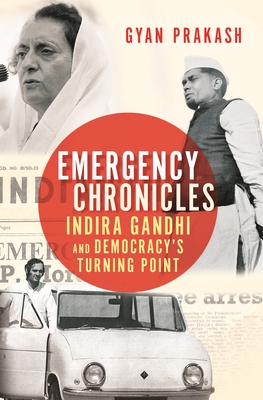 Gyan Prakash

Princeton University Press
Emergency Chronicles: Indira Gandhi and Democracy's Turning Point
0

Rate this book

Key Metrics
Gyan Prakash

Princeton University Press

Paperback

9780691217369

-

-

History > Asia - India & South Asia

English
$0
Available Copies:
0 Copies

Secure Transaction
Book Description
The gripping story of an explosive turning point in the history of modern India
On the night of June 25, 1975, Indira Gandhi declared a state of emergency in India, suspending constitutional rights and rounding up her political opponents in midnight raids across the country. In the twenty-one harrowing months that followed, her regime unleashed a brutal campaign of coercion and intimidation, arresting and torturing people by the tens of thousands, razing slums, and imposing compulsory sterilization on the poor.
Emergency Chronicles
provides the first comprehensive account of this understudied episode in India's modern history. Gyan Prakash strips away the comfortable myth that the Emergency was an isolated event brought on solely by Gandhi's desire to cling to power, arguing that it was as much the product of Indian democracy's troubled relationship with popular politics. Drawing on archival records, private papers and letters, published sources, film and literary materials, and interviews with victims and perpetrators, Prakash traces the Emergency's origins to the moment of India's independence in 1947, revealing how the unfulfilled promise of democratic transformation upset the fine balance between state power and civil rights. He vividly depicts the unfolding of a political crisis that culminated in widespread popular unrest, which Gandhi sought to crush by paradoxically using the law to suspend lawful rights. Her failure to preserve the existing political order had lasting and unforeseen repercussions, opening the door for caste politics and Hindu nationalism. Placing the Emergency within the broader global history of democracy, this gripping book offers invaluable lessons for us today as the world once again confronts the dangers of rising authoritarianism and populist nationalism.
Emergency Chronicles: Indira Gandhi and Democracy's Turning Point
Author Bio
Gyan Prakash (born 1952) is a historian of modern India and the Dayton-Stockton Professor of History at Princeton University. Prakash is a member of the Subaltern Studies collective. Prakash received his Bachelor of Arts degree in history from the University of Delhi in 1973, his Master's degree in history from Jawaharlal Nehru University in 1975, and his doctorate in history from the University of Pennsylvania in 1984.
His field of research concerns urban modernity, genealogies of modernity, and problems of postcolonial thought and politics. He writes about modern South Asian history, comparative colonialism and postcolonial theory, urban history, global history, and the history of science.
Gyan Prakash is professor of modern Indian history at Princeton University and a member of the Subaltern Studies Editorial Collective.
He is the author of Bonded Histories: Genealogies of Labor Servitude in Colonial India (1990), Another Reason: Science and the Imagination of Modern India (1999) and Mumbai Fables (2010). Professor Prakash edited After Colonialism: Imperial Histories and Postcolonial Displacements (1995) and Noir Urbanisms (2010), coedited The Space of the Modern City (2008) and Utopia/Dystopia (2010), and has written a number of articles on colonialism and history writing.
He has also written several books, including Mumbai Fables (2010), which was adapted into the 2015 film Bombay Velvet directed by Anurag Kashyap.
With Robert Tignor, he introduced the modern world history course at Princeton University.
Sources: W W Norton, Penguin India, and Princeton University