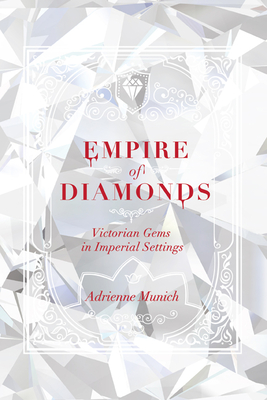 University of Virginia Press
Empire of Diamonds: Victorian Gems in Imperial Settings
0

Rate this book

Key Metrics
University of Virginia Press

Hardcover

9780813944005

9.1 X 6.5 X 0.8 inches

1.1 pounds

Literary Criticism > English, Irish, Scottish, Welsh

English
$0
Estimated Arrival:
Oct 4 -Oct 6
Available Copies:
10+ Copies

Secure Transaction
Book Description
In 1850, the legendary Koh-i-noor diamond, gem of Eastern potentates, was transferred from the Punjab in India and, in an elaborate ceremony, placed into Queen Victoria's outstretched hands. This act inaugurated what author Adrienne Munich recognizes in her engaging new book as the empire of diamonds.
Diamonds were a symbol of political power--only for the very rich and influential. But, in a development that also reflected the British Empire's prosperity, the idea of owning a diamond came to be marketed to the middle class. In all kinds of writings, diamonds began to take on an affordable romance. Considering many of the era's most iconic voices--from Dickens and Tennyson to Kipling and Stevenson--as well as grand entertainments such as The Moonstone, King Solomon's Mines, and the tales of Sherlock Holmes, Munich explores diamonds as fetishes that seem to contain a living spirit exerting powerful effects, and shows how they scintillated the literary and cultural imagination.
Based on close textual attention and rare archival material, and drawing on ideas from material culture, fashion theory, economic criticism, and fetishism, Empire of Diamonds interprets the various meanings of diamonds, revealing a trajectory including Indian celebrity-named diamonds reserved for Asian princes, such as the Great Mogul and the Hope Diamond, their adoption by British royal and aristocratic families, and their discovery in South Africa, the mining of which devastated the area even as it opened the gem up to the middle classes. The story Munich tells eventually finds its way to America, as power and influence cross the Atlantic, bringing diamonds to a wide consumer culture.
Empire of Diamonds: Victorian Gems in Imperial Settings
Author Bio
Adrienne Munich comes from Michigan, attending the University of Michigan for two years, then Brandeis University where she received a B. A. in comparative literature. Committed to teaching, she received an MAT degree from Yale University, taught at University of Kentucky before deciding to pursue a doctorate in Victorian literature. 
She teaches courses on Victorian sensational novels—about murderesses, vampires, and addicts, as well as more soothing Victorian topics, such as economics and literature. She writes  books and articles about Victorian literature and culture, such as   Andromeda's Chains, a book about ways that artists and poets interpreted a Greek myth about a chained, naked princess and   Queen Victoria's Secrets, about how Queen Victoria became a cultural icon in an age of empire but of reduced monarchical power. Teaching courses and lecturing about fashion and consumer culture, she organized a Stony Brook conference about fashion and film and edited a book about the topic. 
Recent book topics include American modern poet, Amy Lowell, and articles about movies, early radio, and diamonds.  She is writing a book on cultural meanings of diamonds. She co-edits the Cambridge University Press quarterly journal,   Victorian Literature and Culture.
Source: Stony Brook University 
more