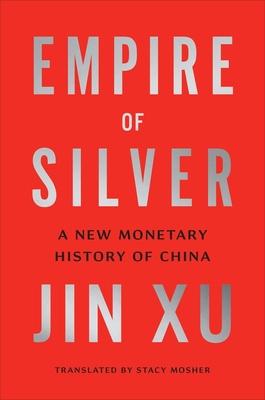 Yale University Press
Empire of Silver: A New Monetary History of China
0

Rate this book

Key Metrics
Yale University Press

Hardcover

9780300250046

9.3 X 6.5 X 1.2 inches

1.46 pounds

History > Asia - China

English
$0
Available Copies:
0 Copies

Secure Transaction
Book Description
A thousand-year history of how China's obsession with silver influenced the country's financial well-being, global standing, and political stability
This revelatory account of the ways silver shaped Chinese history shows how an obsession with white metal held China back from financial modernization. First used as currency during the Song dynasty in around 900 CE, silver gradually became central to China's economic framework and was officially monetized in the middle of the Ming dynasty during the sixteenth century. However, due to the early adoption of paper money in China, silver was not formed into coins but became a cumbersome weighing currency, for which ingots had to be constantly examined for weight and purity--an unwieldy practice that lasted for centuries.
While China's interest in silver spurred new avenues of trade and helped increase the country's global economic footprint, Jin Xu argues that, in the long run, silver played a key role in the struggles and entanglements that led to the decline of the Chinese empire.
Empire of Silver: A New Monetary History of China
Author Bio
My research has focused on religious and funerary art in early medieval China (220-589 CE). During this period, Chinese culture was transformed by the arrival of immigrants from the Mongolian steppes and Central Asia. 
I am particularly interested in stone objects, such as sarcophagi and Buddhist steles. Grounded in close studies of carved stones in museums in China and America, my research addresses a wide array of issues. I investigate questions related to the sources of artistic materials, technical processes, and provenance, as well as questions regarding visual-verbal dynamics, spatial strategies, cultural identity, and cosmopolitanism. 
I am now preparing a book manuscript on stone coffins and mortuary couches created for Sogdian immigrants in sixth-century China.
As a teacher of art history, I am an advocate of object-based learning. That being said, I also have great enthusiasm for the innovative use of technology in the classroom. With the help of museum curators, I strive to create opportunities for students to investigate art history by looking at real art and handling authentic artifacts. 
Sometimes this means bringing objects to class, other times it means taking the class to objects preserved in local collections. To reach a broad range of students, I try to align my lectures with current ways of understanding art and culture; I often discuss popular documentaries and digital interfaces as I present art historical material.
Source: Vassar College Dean of the Faculty 
more