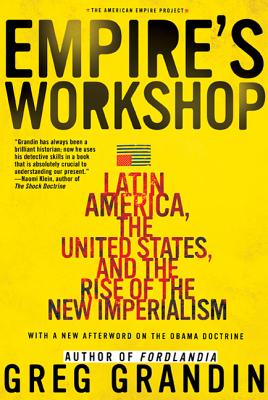 Holt McDougal
Empire's Workshop: Latin America, the United States, and the Rise of the New Imperialism
0

Rate this book

Key Metrics
Holt McDougal

Paperback

9780805083231

8.22 X 5.58 X 0.78 inches

0.6 pounds

History > Latin America - General

English
$0
Available Copies:
0 Copies

Secure Transaction
Book Description
Grandin has always been a brilliant historian; now he uses his detective skills in a book that is absolutely crucial to understanding our present.--Naomi Klein, author of No Logo
The British and Roman empires are often invoked as precedents to the Bush administration's aggressive foreign policy. But America's imperial identity was actually shaped much closer to home. In a brilliant excavation of long-obscured history, Empire's Workshop shows how Latin America has functioned as a proving ground for American strategies and tactics overseas. Historian Greg Grandin follows the United States' imperial operations from Jefferson's aspirations for an empire of liberty in Cuba and Spanish Florida to Reagan's support for brutally oppressive but U.S.-friendly regimes in Central America. He traces the origins of Bush's current policies back to Latin America, where many of the administration's leading lights first embraced the deployment of military power to advance free market economics and enlisted the evangelical movement in support of their ventures.
With much of Latin America now in open rebellion against U.S. domination, Grandin asks: If Washington failed to bring prosperity and democracy to Latin America--its own backyard workshop--what are the chances it will do so for the world?
Empire's Workshop: Latin America, the United States, and the Rise of the New Imperialism
Author Bio
Greg Grandin, who received his doctorate at Yale University under the direction of Emilia Viotti da Costa and Gilbert Joseph, previously taught at New York University for nineteen years.  
He is the author of seven books, including The Blood of Guatemala, which won the Latin American Studies Association's Bryce Wood Award for best book published on Latin America in any discipline, The Last Colonial Massacre, Empire's Workshop, Fordlandia, which was a finalist for the Pulitzer Prize, the National Book Award, and the National Book Critics Award, The Empire of Necessity, which won the Bancroft and Beveridge awards in American history, Kissinger's Shadow, and The End of the Myth, which won the Pulitzer Prize for general non-fiction and was a finalist in the history category.  
Grandin is a member of the American Academy of Arts and Sciences and the Society of American Historians.  He has co-edited, with Gil Joseph, A Century of Revolution, and, with Deborah Levenson and Elizabeth Oglesby, The Guatemala Reader.  Grandin has published widely, in The Nation, where he is a member of the editorial board,the London Review of Books, the New Republic, NACLA's Report on the Americas, and the New York Times, among other venues.  
He is a regular guest on Democracy Now!  A revised edition of Empire's Workshop is forthcoming. 
Source: Yale University 
more