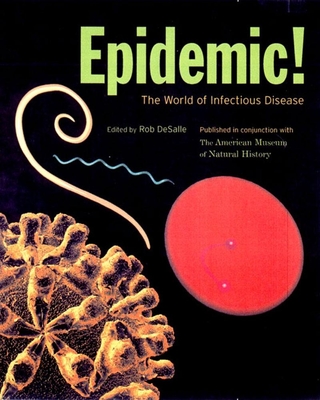 New Press
Epidemic! the World of Infectious Disease
0

Rate this book

Key Metrics
New Press

Paperback

9781565845466

9.23 X 7.54 X 0.68 inches

1.2 pounds

Medical > Essays

English
$0
Available Copies:
0 Copies

Secure Transaction
Book Description
Leading experts explain infectious disease in an illustrated companion to the acclaimed American Museum of Natural History's exhibit. Epidemic! explores the world of infectious disease with essays by Nobel Prize-winning experts, profiles of scientists and researchers, and case studies. Written for the general reader, Epidemic! offers a clear understanding of the threat of infectious diseases, from the flu and mad cow disease to HIV and tuberculosis. Leaders of organizations such as the Centers for Disease Control cover topics from controlling outbreaks and the emergence of new diseases to the problem of drug resistance. Individual case studies explore disease around the world, including the work of Doctors Without Borders, the cultural dimension of malaria, solving the riddle of cholera, and the race to find the AIDS virus. Published to coincide with the American Museum of Natural History's traveling exhibit called the most impressive and informative exhibition the Museum has mounted in years (New York Times), this book illustrates the important issues of diagnosis, treatment, and prevention throughout history and across cultures with more than eighty photographs and images. A resource section includes lists of organizations and Web sites, an annotated bibliography, and a glossary. Examining infectious disease from a natural history perspective, Epidemic! allows us to understand one of the most critical issues of the coming millennium.

Epidemic! the World of Infectious Disease
Author Bio
Dr. DeSalle works in molecular systematics, microbial evolution, and genomics. His current research concerns the development of bioinformatic tools to handle large-scale genomics problems using phylogenetic systematic approaches. 
Dr. DeSalle has worked closely with colleagues from Cold Spring Harbor Labs, New York University, and the New York Botanical Garden on seed plant genomics and development of tools to establish gene family membership on a genome- wide scale. His group also focuses on microbial genomics, taxonomy, and systematics. 
In particular, they approach tree-of-life questions concerning microbial life using whole genome information. He also dabbles in Drosophila systematics.
Education
Washington University, Ph.D, 1984
University of Chicago, B.A., 1976
Source: American Museum of Natural History 
more
Videos