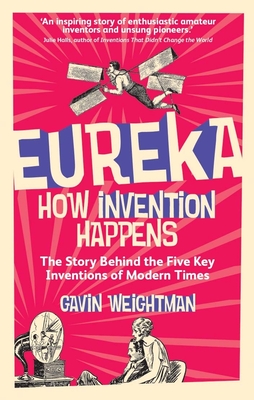 Yale University Press
Eureka: How Invention Happens
0

Rate this book

Key Metrics
Yale University Press

Paperback

9780300228854

9 X 5.7 X 0.8 inches

0.9 pounds

Technology & Engineering > History

English
$0
Available Copies:
0 Copies

Secure Transaction
Book Description
This witty and inspiring book chronicles the long history of discovery and ingenuity which gave rise to a eureka moment when a dream of invention became a reality for the first time
Tracing the long pre-history of five twentieth-century inventions which have transformed our lives, Gavin Weightman reveals a fantastic cast of scientists and inspired amateurs whose ingenuity has given us the airplane, television, bar code, personal computer, and mobile phone. Not one of these inventions can be attributed to a lone genius who experiences a moment of inspiration. Nearly all innovations exist in the imagination before they are finally made to work by the hard graft of inventors who draw on the discoveries of others.
While the discoveries of scientists have provided vital knowledge which has made innovation possible, it is a revelation of Weightman's study that it is more often than not the amateur who enjoys the eureka moment when an invention works for the first time. Filled with fascinating stories of struggle, rivalry, and the ingenuity of both famous inventors and hundreds of forgotten people, Weightman's captivating work is a triumph of storytelling that offers a fresh take on the making of our modern world.
Eureka: How Invention Happens
Author Bio
At school I did not study history and my interest in the past was not excited until I took a degree in sociology at Bedford College, London University. It was an old-fashioned course which included a great deal of social and economic history which I had never come across in school. Our professor, the flamboyant Oliver McGregor was keen on agricultural history and harangued us about the iniquities of the enclosure of land and the importance of innovations in ploughing techniques.
It was at Bedford College ( which is long gone ) that I first began to study the industrial revolution, a huge subject that has fascinated me ever since. I had worked as a local journalist for five years before I went to university, by which time I was twenty-two. I went back into journalism writing features and leaders before joining New Society magazine (which is also long gone ) in 1974. In the four years I was there I wrote on a huge range of subjects, including the history of poaching in Britain and developed an interest in housing and many social issues. Read more..
Quite by chance I was invited to join London Weekend Television's Friday night current affairs show The London Programme as a reporter. I knew nothing at all about television at first but in time became a producer, then a producer-director and the author of many programmes which I also wrote and narrated. My background in social history was invaluable as I tackled the history of London in two series of The Making of Modern London. I had always had an interest in wildlife and I had the luck to be given the opportunity to make a series called City Safari and later Brave New Wilderness. With the London history series I had started writing books, along with Steve Humphries who worked with me as an associate producer. Steve is still making wonderful television programmes with his own company Testimony Films based in Bristol.
Source: gavin-weightman.co.uk
more