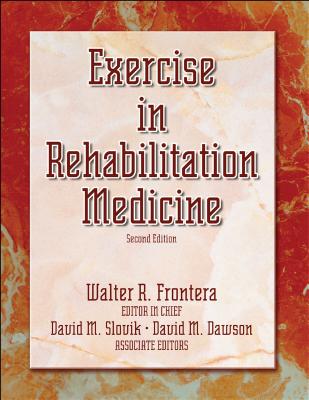 Human Kinetics Publishers
Exercise in Rehabilitation Medicine
0

Rate this book

Key Metrics
Human Kinetics Publishers

Hardcover

9780736055413

11.34 X 8.64 X 1.08 inches

2.84 pounds

Medical > Physical Medicine & Rehabilitation

English
$0
Available Copies:
0 Copies

Secure Transaction
Book Description
Therapists, exercise physiologists, and physicians will find Exercise in Rehabilitation Medicine, Second Edition, a highly useful reference in designing exercise rehabilitation programs for patients with various disabling illnesses and conditions. This book provides an understanding of the basic physiological adaptations to exercise and aids health professionals in properly matching a training program with the impairment, activity, activity level, and participation goal appropriate for the patient.
Written by the most distinguished rehabilitation clinicians in the field, Exercise in Rehabilitation Medicine, Second Edition, provides a comprehensive approach to the use of exercise as a primary modality in the arsenal of rehabilitation specialists. Thoroughly updated, this new edition focuses on the basic sciences and clinical correlates affecting the use of exercise, and it includes new chapters on the use of exercise in patients with HIV/AIDS, end-stage renal disease, and cancer recovery. It also includes the following features:
-Discussion of equipment and protocols used for testing the capacity of the patient, with specific reference to strength, endurance, flexibility, and balance
-12 clinical chapters, each including a case study that shows how the information applies to a specific patient, indicating the practical importance of the knowledge presented
-More than 200 tables, illustrations, and photos to reinforce and clarify the text
-Subject and citation indexes, along with extensive reference lists for each chapter, making it easy to access the information and explore subjects in greater depth.
In part I, the focus is on biological considerations, including physiological responses to exercise and adaptations regarding strength, endurance, flexibility, balance, and coordination. Only by understanding these basic facts can a health professional properly match a training program with a patient. Part II details special clinical considerations, including the principles of exercise testing and exercise prescription and examining the role of exercise in preventing chronic illness. Part III discusses the rationale and clinical importance of exercise in the rehabilitation of patients with various disabling conditions, and it addresses the factors that must be weighed when prescribing exercise for these conditions. Among the diseases discussed in these 12 chapters are diseases of the heart, circulatory system, lungs, kidneys, joints, and bones and the endocrine, immune, and neuromuscular systems. Part IV includes two chapters on special populations: the elderly and elite athletes with disabilities.
Exercise in Rehabilitation Medicine, Second Edition, combines theory with practical and clinical information, establishing both the how and why of exercise rehabilitation. Its clarity will help those with little technical expertise to follow it and put it to use, and its detail and advanced material will aid those who are experienced to significantly improve their understanding.
Exercise in Rehabilitation Medicine